Court grants Zardari's 10-day physical remand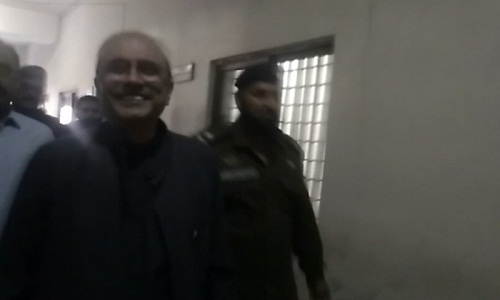 Islamabad: An accountability court has Tuesday 10-day physical remand of former president Asif Ali Zardari.
The court has handed over the erstwhile president to the National Accountability Bureau (NAB) and directed
the anti-corruption watchdog to produce Asif Ali Zardari before it on June 21 after interrogations.
The NAB had sought 14-day physical remand from the court. PPP workers were kept away from the premises
of the courthouse. At least 500 personnel of Islamabad police had been stationed for the security. As many as
300 policemen were deployed around the court, while another 200 were stationed on the routes to the court
from the bureau's office in Rawalpindi.
Rangers patrolled the area around the accountability court. Meanwhile all roads leading to accountability
court were closed for all kind of traffic.
On Monday, Pakistan People's Party (PPP) co-chairman surrendered himself to a team of the NAB after the
Islamabad High Court (IHC) rejected his and his sibling Faryal Talpur's pre-arrest bail plea in the money
laundering case.
Following the refusal of his pre-arrest bail, a team of the National Accountability Bureau accompanied by
police personnel had reached the residence of PPP co-chairman Asif Ali Zardari in order to arrest him.
PPP chairman Bilawal Bhutto Zardari and Aseefa Bhutto were present on the ocassion. The NAB team did not
arrest Faryal Talpur though. Zardari was taken to the NAB office in Rawalpindi where he was shifted and to
cell no 2.