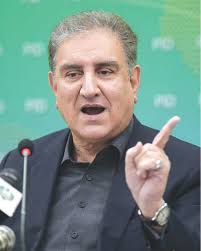 Islamabad: Foreign Minister Shah Mehmood Qureshi on Tuesday has categorically rejected the demands of alliance of opposition parties Pakistan Democratic Movement (PDM), saying these were undemocratic and unconstitutional.
Addressing a news conference in Islamabad, the minister said the country cannot be run on the whims of somebody. He emphatically stated that Prime Minister Imran Khan will not step down and that the assemblies will not be dissolved.
He said the present government enjoys the mandate of the people and secured millions of votes in the 2018 general elections.
The Foreign Minister who is also Vice Chairman of PTI regretted that the opposition parties are giving priority to their personal interests over the national interests. He however said we are ready for talks on electoral reforms and the issues of inflation and provincial autonomy and the NFC.
Referring to the stance of opposition parties on dialogue, the Foreign Minister reminded that doors of negotiations in politics are never shut. He said the posture of the opposition parties may damage the democracy.
Qureshi said the alliance of opposition parties has failed to mobilize the public support.
He said the people showed their indifference to the Lahore gathering which was a meaningless activity as it carried no new announcement.
Qureshi said there is no consensus amongst the PDM over the issue of resignations from the assemblies and the Long March.
He said the policy of PPP is ambiguous as the decisions of the party are being taken not by Pakistan People's Party (PPP) Chairman Bilawal Bhutto Zardari but by former President Asif Ali Zardari.
He said the Pakistan Muslim League-Nawaz (PML-N) is also divided on the issue of resignations. He said there is a clear between the groups of Shahbaz Sharif and that of Maryam Nawaz.