Armless people of Occupied Kashmir can't be cowed down: Sardar Masood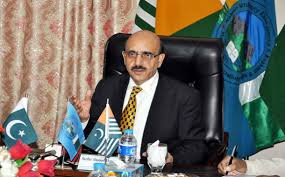 AJK President Sardar Masood Khan has said the armless people of Occupied Kashmir cannot be cowed down and they are standing firm against the Indian oppression and tyranny.
Addressing Kashmir Solidarity Youth Convention in Islamabad on Friday, he said India has deployed nine hundred thousand troops in occupied Kashmir to perpetrate violence against Kashmiri people. He, however, said that the valley will be turned into the graveyard of Indian troops by Kashmiris.
The AJK President said the Kashmiri people are committed to their right to self-determination.
He said Azad Kashmir and Gilgit-Baltistan are the first line of defense of Pakistan and they will not allow the Indian troops to cross this line.
Sardar Masood Khan said the fire stoked by Indian government in occupied Kashmir will destroy and disintegrate India.
The AJK President hailed Pakistani government for cutting trade and economic relations with India and raising the Kashmir dispute at the UN Security Council and the UN Human Rights Council. He said Pakistan has given a clear message that its war is against Hindutva, fascist and extremist regime of India.
Sardar Masood Khan said it is also the first time that the international media exposed the true face of India before the world and rejected the Indian narrative on Kashmir. He said there is also change of attitude in the European Union which has condemned the Indian atrocities in the occupied valley.