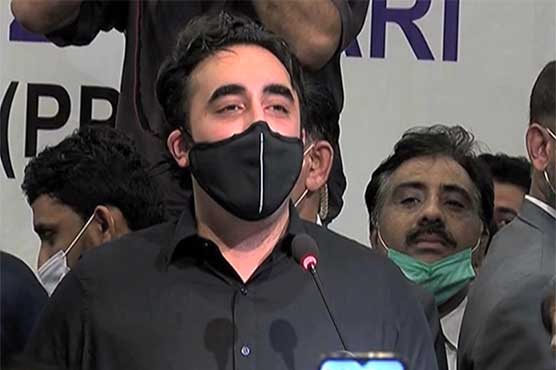 Larkana: Chairman Pakistan People's Party (PPP) Bilawal Bhutto Zardari has said that the present government will be sent home in a democratic, constitutional and legal manner.
He said the PPP will convince the other parties to move a no-confidence motion against Prime Minister Imran Khan,
Addressing the inauguration ceremony of the Larkana Industrial Estate, the PPP Chairman said that the parties in the PDM would be persuaded that if we have to attack, "we have to attack in the assembly in a democratic way. All the allies in the PDM will be on the same page and even our meetings over a cup of tea are scaring the PTI regime more than rallies."
Bilawal Bhutto said that nowadays PTI ministers are trying to create cracks in the opposition alliance, which is a reflection of their fears as PTI government is afraid of the joint power of attack of all democratic forces.
He said that the federal government of PTI has left the people especially the people of Sindh destitute. But we are continuing to fight for the rights of the people at all levels. The government ministers also believe that the PPP and the Sindh Chief Minister are the obstacles to Imran Khan's anti-people policies. "PPP leaders are targeted through media trial and NAB, but we know how to counter conspiracies, and we know how to get undemocratic forces out of politics," he added.
The PPP Chairman said that the PTI government wants to run the economy and the country through intimidation and pointed out that the Sindh government increased tax revenue but did not use sticks for this.
Bilawal Bhutto Zardari said that his party has always served the people under its manifesto adding that he wanted to send a message to the business and industrial communities that like in the rest of the country, the role of PPP is being tarnished in front of them. "We are definitely people-friendly, but that does not mean that we are opponents of industrialisation and business.
He said that establishment of Larkana Industrial Zone would not only benefit the local industries and businesses but also create employment opportunities for the people. "We have to work together in this difficult economic situation. PTI government has not provided a single job of the committed 10 million jobs or 5 million houses instead it has deprived tens of thousands of employment and homes", he added.