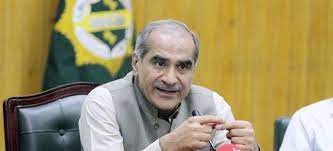 Lahore: Pakistan will hire highly qualified experts from the private sector for the administrative matters of the Main Line 1 (ML-1) project under the China-Pakistan Economic Corridor (CPEC), a Pakistani minister said.
"Pakistan Railways (PR) will hire highly qualified experts from the private sector for the administrative matters of the Main Line 1 (ML-1) project," Railways Minister Khawaja Saad Rafique said at a meeting held here at the PR Headquarters to discuss the project.
The participants of the meeting reviewed the optical fiber policy while the minister directed the technical committee to present its recommendations as soon as possible.
It was also directed by the minister to ensure decanting for safe transportation of petroleum products. The minister directed to operate oil trains with full capacity to increase income of the railways and ordered to discuss with the administration of the Pakistan State Oil (PSO) for the reduction of running time of the oil trains.
The PR administration was also directed to expedite work on train branding and provision of entertainment facilities in trains. The meeting reviewed different suggestions about the Greenline train.
This month, Chinese President Xi Jinping, in a meeting with Prime Minister Shehbaz Sharif, assured China's continued support for Pakistan's sustainable economic and strategic projects including the ML-1rail track.
Last week, Pakistan's Executive Committee of National Economic Council (ECNEC) considered and approved in principle Ministry of Railways modified Planning Commission Form –I (PC-1) for up-gradation of Pakistan Railways existing ML-1 project at the total cost of US $ 9,851.079 million subject to recommendation of cost, technical details and preferably an equity participation financial model.
ML-1 starts from Karachi, passes through Kotri/Hyderabad, Rohri, Multan, Lahore, Rawalpindi and terminates at Peshawar.
ML-1 is the largest of the infrastructure projects as part of the CPEC at a cost of $6.86 billion. The project involves the up-gradation and dualization of ML-1 to increase the operating speed from the current 60 kilometers per hour (KM/h) and 105 km/h to a proposed 160 km/h.
The project also involves the establishment of a dry port near Havelian. ML-1, the Karachi to Peshawar line, is one of four main railway lines in Pakistan, operated and maintained by Pakistan Railways. The line begins from Karachi City Station or Kiamari station and ends at Peshawar Cantonment Station.
The total length of this railway line is 1,687 kilometers. There are 184 railway stations from Kiamari to Peshawar Cantonment on this line. The line serves as the main passenger and freight line of the country. Seventy five percent of the country's cargo and passenger traffic uses the ML-1. The existing timeline for the completion of ML-1 extends to December 2024.