Pakistan and China agree to temporarily reopen Khunjerab Border in two phases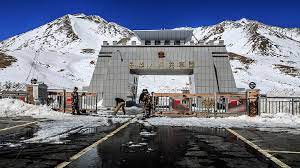 Islamabad: Pakistan and China have agreed to temporarily reopen the Khunjerab Border in two phases, the foreign ministry said here.
"In the first phase, the Khunjerab Border will open today for two days (19-20 January 2023) and again from end-January 2023 to early February 2023, after the Chinese Spring Festival," Foreign Ministry spokesperson Mumtaz Zahra Baloch said at a media briefing.
She mentioned that the Khunjerab Border between Pakistan and China remains closed annually during the winter months. "The Chinese side has agreed to Pakistani request for temporary re-opening of the border to facilitate local traders. We appreciate the special efforts of border officials on both sides to ensure smooth border operations despite inclement weather conditions," she added.
The Khunjerab Pass will be temporarily opened to transport stranded goods as well as machinery needed for execution of development work on Diamer-Bhasha dam.
The Khunjerab Pass remains closed for four months, from December to April every year, under a border protocol agreement signed between the two countries.
The route, closed in November 2019 after the outbreak of Covid-19 in China, was opened two-and-a-half years later in June 2022 under a new agreement and SOPs only to transport goods from China to Pakistan.
The Khunjerab Pass, the highest paved international border crossing in the world, connects the northern border of Pakistan with southwestern China. The crossing remained open from May to November and it is closed during winter months due to extreme weather condition.