PM directs MoFA to remain fully engaged with US for Dr Aafia's early release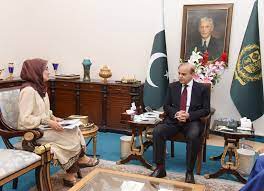 Islamabad: Prime Minister Shehbaz Sharif on Thursday instructed the Foreign Ministry to remain fully engaged with the US Government and Pakistan's Mission in Washington, for Dr. Aafia Siddiqui's well-being and for her early release.
The matter was discussed as Dr Aafia's sister Dr Fowzia Siddiqui called on the prime minister here.
Dr. Fowzia thanked the prime minister for receiving her.
She appreciated the measures the government was undertaking for Dr. Aafia's well-being and requested the Government of Pakistan to redouble its efforts for the early release of Dr. Aafia.
The prime minister assured Dr. Fowzia Siddiqui of the Government of Pakistan's full support.
It was recalled that the former Prime Minister Mian Muhammad Nawaz Sharif also had made robust efforts for release of Dr. Aafia.
The prime minister lauded Dr. Fowzia's untiring efforts for several years, in the pursuit of justice for her sister and prayed for the well-being and good health of Dr. Aafia.