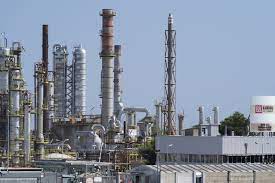 Rome: Italy's cabinet is expected to decide next week whether to use its anti-takeover powers to block the sale of a Lukoil-owned refinery (LKOH.MM) to Cypriot private equity firm G.O.I. Energy, two sources close to the matter said on Friday.
Prime Minister Giorgia Meloni's government wants to have a say in the negotiation as Lukoil's ISAB plant in Sicily refines 320,000 barrels of crude per day, accounting for a fifth of Italy's refining capacity and employing around 1,000 people.
The government has the power to veto the transaction under "golden power" regulation designed to shield industries deemed of strategic importance in sectors such as banking, energy, telecoms and health.
Lukoil said in January it had reached a preliminary deal to sell the refinery to G.O.I Energy, paving the way for its first significant asset disposal since Moscow's invasion of Ukraine.
With backing from commodity trader Trafigura, G.O.I. Energy has so far prevailed over several suitors for the refinery, including U.S. investment platform Crossbridge.
The decision on ISAB will likely be on the agenda of next week's cabinet, one of the sources said, asking not to be named due to the matter's sensitivity. Meloni's government ministers usually meet on Thursday.
Industry Minister Adolfo Urso has repeatedly said Rome would ensure that jobs are protected and environmental standards maintained in the sale of the plant.
Since the golden power was introduced in 2012, government authorities have blocked foreign forays into Italy just eight times.
In six cases, the vetoes stopped Chinese bids, while another last year rejected an attempt by Russia's state-owned atomic company Rosatom to acquire Faber Industrie, an hydrogen company.
Some media outlets have speculated that the United States is concerned over the sale of the Priolo refinery because the plant is only about 50 kilometres away from a NATO base in Sigonella.