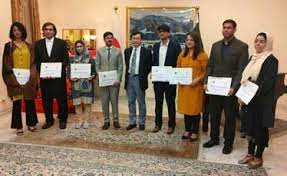 Islamabad: The Government of Japan has awarded MEXT (Ministry of Education, Culture, Sports, Science and Technology of Japan) Research Scholarships for Master and Doctorate degrees to 11 Pakistani students for the academic year 2023-25 aiming to provide them with an opportunity to pursue higher studies in their respective fields at the prominent universities in Japan.
The Embassy of Japan in Islamabad organized a pre-departure orientation for the scholarship recipients here Friday. At the beginning of the event, Pakistani alumni of Japanese universities shared their knowledge and experience of studying and living in Japan with the young scholarship grantees.
At the end of the programme, ITO Takeshi, Chargé d'Affaires, Embassy of Japan in Pakistan hosted a reception at the Ambassador's residence to honor the members of MEXT Alumni Association of Pakistan (MAAP) and to extend farewell to the fresh scholarship recipients.
While speaking at the reception, Mr. ITO congratulated the fresh scholarship recipients upon their selection for the prestigious MEXT research scholarship and advised them to pursue their studies with utmost dedication during their stay in Japan. He termed the award of scholarships a good opportunity for young scholars not only to acquire education but also to learn Japanese culture and traditions.
"I sincerely congratulate the young Pakistani recipients of Japan's MEXT Research scholarship which is funded by the Government of Japan. You will embark on an educational and cultural journey to Japan. Be focused, return with strong knowledge and rich experiences, and become bridges of friendship between Japan and Pakistan" said the Chargé d'Affaires.
It is pertinent to mention here that the Government of Japan's MEXT Research Scholarships was launched in 1954. Since the first Pakistani student went to Japan on scholarship in 1963, up till now a large number of students from across Pakistan have benefited from this scholarship and have returned to Pakistan after obtaining their Ph.D./Master's degrees in Japan.