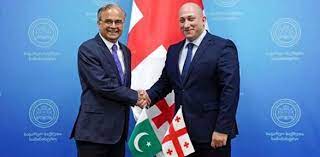 Abida Shaheen
Islamabad: Pakistan and Georgia affirmed their desire to explore mutually beneficial areas of cooperation with a special focus on trade and investment, tourism, education and information technology.
The bilateral relations were discussed in the inaugural session of Pakistan-Georgia Bilateral Political Consultations (BPC) held in Tbilisi.
Foreign Secretary Dr. Asad Majeed Khan and Deputy Minister of Foreign Affairs of Georgia, Alexander Khvtisiashvili, led the respective sides.
Ambassador of Pakistan to Georgia and Azerbaijan and senior officials from both sides were also present.
The two sides exchanged views on the state of play of bilateral relations.
Both sides termed the inaugural session as a stepping stone for diversified cooperation.
Noting the investor friendly policies of both countries, the foreign secretary highlighted immense potential for bilateral trade and investment between Pakistan and Georgia.
The two sides also formalized the bilateral political consultation mechanism with the signing of a Memorandum of Understanding.
It was agreed that that the second session of the BPC will be held in Islamabad on mutually agreed dates.
The foreign secretary called on the Foreign Minister of Georgia Ilia Darchiashvili.
Welcoming the inaugural round of consultations, the two sides expressed hope that it would lay the foundation of multifaceted cooperation between the two sides.
Separate meetings with the Deputy Minister of Justice and Deputy Minister of Economy and Sustainable Development of Georgia were also held.
The foreign secretary also attended an interactive event with prominent business representatives of Georgian companies where he underscored the need for rigorous B2B networking to unlock the potential for cooperation between the Pakistan and Georgia.