Moon-Talks Moon set for series of bilateral talks, special lecture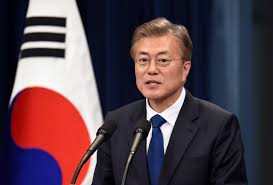 NEW YORK, Sep 26 :South Korean President Moon Jae-in was set for a series of bilateral talks with global leaders waiting to hear the outcome of his recent summit with North Korean leader Kim Jong-un, while he will also offer a special lecture for members of top US think tanks.
The South Korean president will begin his third day in New York with an interview with a local news network, followed by a bilateral summit with Japanese Prime Minister Shinzo Abe, his office Cheong Wa Dae said.
Moon's trip to New York followed his visit to Pyongyang, where he and the North Korean leader reaffirmed their efforts to completely denuclearize the Korean Peninsula.
The South Korean president will explain the outcome of his third bilateral summit with Kim to the Japanese prime minister, Cheong Wa Dae said earlier.
He will later meet with the leaders of Spain and Egypt also to discuss bilateral issues, according to Cheong Wa Dae.
Moon will also lay out the details of his summit with Kim before top U.S. opinion leaders in a special lecture for some 200 members of the Council on Foreign Relations, Korea Society and Asia Society.
"As the first policy lecture to be offered to U.S. opinion leaders since the 2018 Inter-Korean summit in Pyongyang, President Moon's lecture will be a valuable opportunity to share our government's stance on the role of the South Korea-US alliance to support the establishment of peace and prosperity on the Korean Peninsula," Cheong Wa Dae said in a press release.
The South Korean president will wrap up his four-day trip here Wednesday after addressing the U.N. General Assembly.