Strike-Killing Strike in Bandipore, Shopian against killing of five youth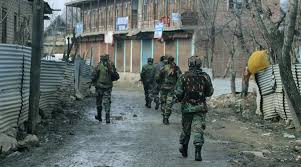 ISLAMABAD, Sep 26:Normal life remained crippled in Bandipore district of north Kashmir for the 6th consecutive day on Wednesday against the killing of five youth by Indian troops.
According to Kashmir Media Service, the troops killed two youth on last Thursday and three others on Friday during a prolonged cordon and search operation in Sumlar area of the district.
All shops and business establishments remained closed in the district while a thin movement of private vehicles was witnessed on roads.
Shutdown was also observed in Shopian towns against the killing of the youth. As per reports, one of the five martyred youth belonged to the town.
The Indian Army had claimed that the youth were foreign militants and were killed in an encounter with the troops.
Meanwhile, two families from Shopian and Kulgam districts and one from Ganderbal have refuted the Indian Army's claim saying that the martyred youth included their sons.
The two families from Shopian and Kulgam reached Bandipora, today, and met Deputy Commissioner Bandipora who directed them to meet Deputy Commissioner Baramulla as the slain youth were laid to rest there.
A family from Kangan area of Ganderbal claimed that one of the youth killed in Smlar was their kin, Parvez Ahmed Tedwa.
Pervez Tedwa's brother, Muhammad Rafiq Tedwa, told media that his brother was missing since 2003 and on the photographic evidence they came to know about his killing.