Singer-Arrested Female Pashto singer, dancer held for blackmailing female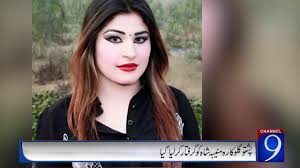 PESHAWAR, Sep 28 :The Federal Investigation Agency (FIA) Cyber Crime Peshawar Circle Friday claimed to have arrested a
female Pashto singer and Muniba Shah over charges of blackmailing a female on social media.
According to FIA source, a female lodged a complaint with FIA on September 27 that someone was uploading her and family
pictures on social medial with her fake identity and blackmailing her. The FIA cyber crime Peshawar Circle after conducted thorough
investigation hacked the identity and identified the location of the accused.
FIA team conducted raid on the identified location and apprehended Pashto singer Muniba Shah and her brother over her
involvement in the crime.
During the course of investigation, the accused confessed that she created the fake ID of the complainant against the mobile number
of her brother.
FIA recovered the computer which was being used in the crime and lodged FIR under section 20 PECA 419 PPC was registered
against the accused.