Markets-world Markets sag on China, Italy, US rate concerns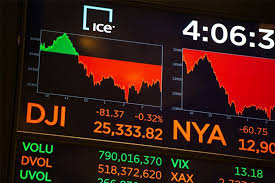 New York, Oct 9 :Global stocks mostly fell Monday as worries about China and Italy added to unease over last week's sudden rise of US interest rates.
 Analysts said US-China trade tensions remained at the forefront following a testy public interaction between Chinese Foreign Minister Wang Yi and US Secretary of State Mike Pompeo in Beijing.
 Wang bemoaned eroding "mutual trust" between the two powers less than a week after US Vice President Mike Pence added a new component to the standoff by accusing Beijing of meddling in US elections.
 Meanwhile, the People's Bank of China lowered the required reserve ratio for banks as it looks to shore up the economy after a batch of weak data, amid Beijing's trade war with Washington.
"The fact the authorities are cutting the amount of capital banks need to hold in relation to their loan book suggests they are worried about the economy," said CMC Markets analyst David Madden.
 "It gives off the impression the country is gearing up for a protracted trade spat."
 In Europe, banks headed the day's losers in a rocky Milan trading session.
 Stocks tumbled 2.4 percent on concerns Italy could face a sovereign debt crisis after its populist government passed a purse-busting budget last week to the chagrin of the EU.
 London, Frankfurt and Paris all fell more than 1.0 percent.
US stocks also had a lackluster session as worries over higher US interest rates continued to dent sentiment.
"There is some nervous chatter about how quickly rates moved last week and how they might be entering a new domain that could create a real headwind for this bull market," Briefing.com analyst Patrick O'Hare wrote.
 "That consideration has kept the buy-the-dip crowd at bay for the time being."
 Still, US stocks rallied somewhat as the session played out, with the Dow Jones finishing at a modest gain even as the tech-rich Nasdaq tumbled for the third straight session.
Bucking the sagging trend was Brazil, where the Ibovespa index rose six percent on the Sao Paulo exchange after far-right candidate Jair Bolsonaro topped first-round voting in Sunday's presidential election before the gain tapered off to around four percent.
Some analysts said the gains reflected relief at lessening political uncertainty facing Brazil as the country moves closer to selecting a leader. Bolsonaro will face off against the left-leaning Fernando Haddad on October 28.
                   – Key figures around 2100 GMT –
                  New York – Dow Jones: UP 0.2 percent at 26,486.78 (close)
                  New York – S&P 500: DOWN less than 0.1 percent at 2,884.43 (close)
                  New York – Nasdaq: DOWN 0.7 percent at 7,735.95 (close)
                  Milan – FTSE MIB: DOWN 2.4 percent at 19,851.0 (close)
                  London – FTSE 100: DOWN 1.2 percent at 7,233.33 (close)
                  Paris – CAC 40: DOWN 1.1 percent at 5,300.25 (close)
                  Frankfurt – DAX 30: DOWN 1.4 percent at 11,947.16 (close)
                  EURO STOXX 50: DOWN 1.1 percent at 3,309.72 (close)
                  Hong Kong – Hang Seng: DOWN 1.4 percent at 26,202.57 (close)
                  Shanghai – Composite: DOWN 3.7 percent at 2,716.51 (close)
                  Tokyo – Nikkei 225: Closed for a holiday
                  Euro/dollar: DOWN at $1.1492 from $1.1524 at 2100 GMT
                  Pound/dollar: DOWN at $1.3092 from $1.3120
                  Dollar/yen: DOWN at 113.16 from 113.72 yen
                  Oil – Brent Crude: DOWN 25 cents at $83.91 per barrel
                  Oil – West Texas Intermediate: DOWN 5 cents at $74.29 per barrel