10,000 carats of diamonds,500 kg of silver, 100 kg gold, and jewels worth 5,000 carat has been stolen Uttar Pradesh jeweller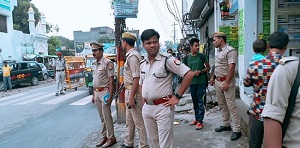 Kanpur: A theft of Rs. 140 crore worth of gold and jewels has been reported to a Kanpur police station by a Uttar Pradesh jeweller, police said today.The complaint was registered by a jeweller who has a shop on Birhana Road. The shop was closed down five years back following a dispute between business partners.Superintendent of Police (East) Raj Kumar Agarwal said a probe is on.
The police said they were checking CCTV footage of the shops and business establishments around the jewellery store.
The shop where the alleged theft was reported was an equal partner shop that was closed on May 30, 2013 after the dispute, an official said.A court in Kanpur had sometime back ordered the shop to be opened by the police in presence of both partners.
However, the alleged theft took place just before it could be reopened.In the police complaint, it has been alleged that 10,000 carats of diamonds, 500 kg of silver, 100 kg gold, and jewels worth 5,000 carat and some important business related documents has been stolen.