Boeing jetliner carrying 126 people crash-landed , injuring six people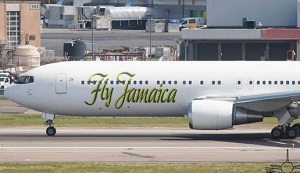 GEORGETOWN, GUYANA: A Boeing jetliner carrying 126 people crash-landed at the airport in Guyana's capital Georgetown on Friday, injuring six people, the transport minister said.
The Fly Jamaica Airways plane was bound for Toronto when it suffered a hydraulic problem shortly after takeoff and returned to the airport, crashing and skidding off the runway, Transportation Minister David Patterson said.
He said the injuries were not life-threatening and the wounded were taken to a hospital near the airport in this country bordering Venezuela to the east.
"They are all stable and are being looked at. There were no reports of broken bones," Patterson told a news briefing at the airport.
The 118 passengers on board the Boeing 757-200 included 82 Canadians. There were eight crew members aboard.
After departing at 2:10 am, the pilot reported a problem with the hydraulic system 10 minutes into the flight.
Guyanese police and soldiers secured the crash site for investigators to begin working. The US National Transportation Safety Board was alerted.
"We can confirm that Fly Jamaica flight OJ256 bound for Toronto has returned to Georgetown with a technical problem and has suffered an accident on landing," the airline said.
"At this time, we believe that all 118 passengers and eight crew members are safe. We are providing local assistance and will release further information as soon as it is available," it added.