Millions of foreign tourists expected in Italy for New Year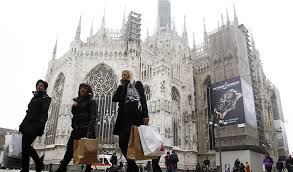 Milan: At least 6.3 million foreign tourists were expected to travel to Italy over Christmas and New Year's holidays, with northern Milan city likely confirming as top destination for shopping tourism flows, recent surveys showed.
The presence of foreign tourists would increase especially in Italian mountain resorts, with at least a 0.8 percent rise compared to the presences registered in the same period of 2017, according to a research by the Center for Tourism Studies (CTS) with business association Assoturismo-Confesercenti.
Their survey was conducted earlier this month among a sample of 1,613 entrepreneurs operating in the tourist accommodation field across Italy.
"Considering the countries of origin (of the flows), an increase is expected in the number of tourists from Switzerland, the Middle East, and from Australia and New Zealand," the CTS said.
Overall, the projections on foreign tourism — if confirmed — would partially make up for a possible moderate decrease in the domestic demand for Italian destinations, according to the report.
Italian accommodation facilities were in fact forecast to receive a total of 16.7 million presences across Christmas and New Year, with Italian tourists slightly decreasing by at least 50,000 compared to 2017.
According to the same source, overall tourism presences in the same period last year had been 16.8 millions.
Compared to the same period of 2017, "the same flows of Italian and foreign tourists are expected in hotels, while extra-hotel accommodation facilities would see a drop in both components of the demand," the Assoturismo-Confesercenti survey explained.
The best performance was expected from Italy's central regions — where many characteristic medieval towns and art cities are located — with a booking increase by about 1.2 percent.
On the contrary, Italy's northwest and northeast destinations would see a 1.2 percent drop in number (both Italians and foreigners), and southern regions a 1.4 percent decrease.
Italian art cities would rank second after mountain resorts as most loved destination among foreign tourists, with a 0.5 percent increase in the number of nights spent expected, the survey finally showed.
Despite moderately uneven trends expected across the country, however, large cities such as Milan, Rome, Florence and Venice would still benefit from the usual mass inflow and — if latest trends were confirmed — Milan was expected to play the major role in terms of shopping tourism.
The city — Italy's main economic hub in northern Lombardy region — in fact emerged as Italy's first destination for shopping among foreign tourists, according to a survey by consulting company Risposte Turismo released earlier this year.
Based on interviews to 2,000 tourists and on statistics provided by the National Institute of Statistics (ISTAT) for 2017, the survey showed that Milan, Rome, Florence, and Venice together receive an average 1.5 million shopping tourists each year, spending an average 2.6 billion euros (2.97 billion U.S. dollars).
Milan was chosen as the most loved destination for shopping in the highest number of cases (20.5 percent), considering the answers provided by those involved.
Furthermore, over 35 percent of the Tax Free Shopping spending made by non-European tourists between January and August this year was made in Milan, the survey also reported citing data provided by tax refund operator Global Blue.
Last year, Italy registered a record high in tourism inflows, with 421 million nights spent at tourist accommodation facilities (4.4 percent annual increase) and 123 million arrivals (+5.3 percent), ISTAT said.