Russia says Germany, France demands on Crimea unacceptable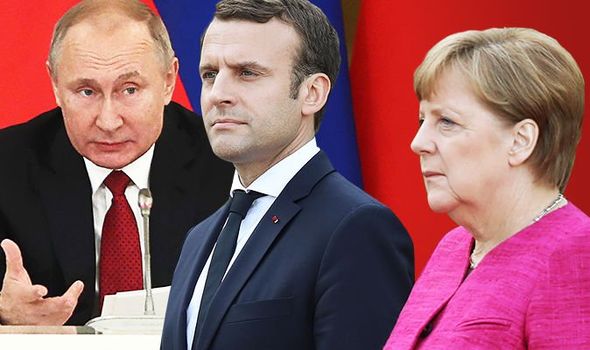 Moscow: Moscow believes that demands concerning human rights in Crimea and tensions in the Kerch Strait and the Sea of Azov, put forward by Germany and France, are unacceptable, the Russian Foreign Ministry said, commenting on a joint statement German Chancellor Angela Merkel and French President Emmanuel Macron made on December 28.
According to the Russian Foreign Ministry, the second part of the statement is regrettable, "in which Berlin and Paris flatly accuse Russia of violating human rights in Crimea and raising tensions in the Sea of Azov and the Kerch Strait, and also put forward unacceptable demands."
"We would like to point out that attempts to question the legal status of Crimea and Sevastopol as Russian regions are useless, as people there made their choice freely and in accordance with international law. Russia will continue to resolutely protect its sovereignty and deter provocations," the ministry added.
"As for navigation in the Kerch Strait, Russia continues to ensure the freedom of navigation in the region in accordance with the Russian-Ukrainian agreements, domestic legislation and international rules, taking in consideration actual security threats and the risk of provocations on the part of Ukraine and its western 'friends'," the Russian Foreign Ministry noted.
"We would like to suggest that rather than trying to teach Russia a lesson, our partners in the Normandy Quartet should pay attention to Kiev's blatant violation of human right and freedoms, so dear to the West," the ministry went on to say.
"The Ukrainian authorities are still reluctant to release the captain of the Nord fishing boat seized in March 2018, while the boat has been illegally put up for sale (though no one seems to be willing to buy it). Russia's Mekhanik Pogodin oil tanker, detained in August for no reason, still remains in the Ukrainian port of Kherson. Russian journalist Kirill Vyshinsky has been in custody since May 2018, being prosecuted for his professional activities."
The Russian Foreign Ministry also said that "the Kiev regime seems unable to complete its investigation into the shootings that took place on Maidan in February 2014 and identify those responsible for the death of dozens of people in Odessa's Trade Union House on May 2, 2014, as well as for the Mariupol killings in May 2014."
Besides, Moscow pointed to the Ukrainian authorities' interference in the affairs of the church. "The rights of Ukrainian citizens – first and foremost, the Russian-speaking ones – are under attack. The use of other languages except Ukrainian has been banned, censorship has been introduced, more bans are being issued to stop the spread of information that strays from the official narrative," the Russian Foreign Ministry pointed out.
"We are forced to once again call on our partners to abandon overt 'double standards' and pay attention to the actual problems and threats to European security and stability that their proteges in Kiev are creating," the ministry added.