Scattered hotel to save historic Italian villages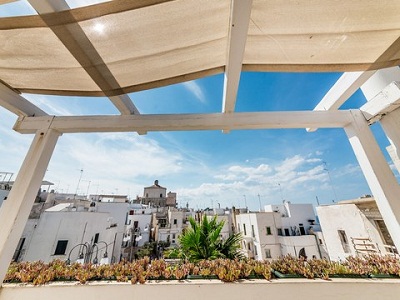 Rome: Throughout the hills of Italy are scattered many villages, some of them nearly 1,000 years old. Unfortunately, many of these rural towns are in poor condition. Younger residents have moved on, and Italy's modern economy has left these remote outposts behind. Rural residents hang on to the traditional surroundings and slow pace of life, but investing in necessary renovations and upkeep can be challenging.
Residents in many of these small towns have found a way to preserve not only their buildings but also their way of life. It's called "scattered hotel," or albergo diffuso in Italian, and the concept has spread across rural Italy over the past three decades. The idea has worked so well here that it has spread to other places in Europe and as far away as Japan, which recently saw its first officially-certified albergo diffuso open its doors.
Plenty of hotel developers have turned ancient buildings into boutique hotels, and the Airbnb phenomenon has given homeowners a financial incentive to invest in renovation and upkeep.
But alberghi diffusi is neither a boutique hotel nor the kind of properties you'd see listed on Airbnb. You can't really compare them to vacation rentals either. Scattered hotels — at least those that want the official alberghi diffusi designation — have to follow a set of rules that ensure authenticity and independent ownership. The "hotels" consist of different accommodations in different buildings scattered throughout the village. There are central common areas with dining and other services for guests, who can choose from accommodations in renovated village houses, converted farmhouses, school houses, villas, warehouses, barns or even jails.
Guests can tailor their experience by choosing from a menu of diverse accommodations. Because scattered hotels are promoted as one hotel, rather than different accommodations in the same town, the booking process is simplified.
Scattered hotels also have trickle-down effect on the local economy, according to The New York Times. They can provide jobs for locals and a new stream of customers for village artisans and retailers.
To be officially considered an albergo diffuso, a village must have accommodations in original buildings, and the buildings must be owned and operated by individuals, not by an investment group. Unlike "sharing economy" accommodations, scattered hotels need to provide full hotel services, though those services can be supplied by any number of buildings. Furthermore, the development must take place in an existing town to protect against tourist-only developments that create inauthentic villages solely for the purpose of tourism.
Since the hotel rooms are scattered in the midst of the regular village buildings, guests are immersed in village life, rather than living in a separate space. In this way, local culture becomes part of the identity of each albergo diffuso. Another benefit is that contact with locals is virtually guaranteed with this kind of layout.
Some alberghi diffusi are surrounded by vineyards, while others are near beaches. Some are even UNESCO World Heritage Sites.
The idea of scattered hotels got its start in the early 1980s. Hotel marketing consultant Giancarlo Dall'Ara got the inspiration for scattered hotels while trying to revive tourism in an earthquake-damaged corner of northeastern Italy in the 1970s. Dall'Ara is still involved in the alberghi diffusi movement as the president of the National Association of Alberghi Diffusi. This is the organization that certifies new scattered hotels, and the group's reach has spread beyond Italy. In 2018, for example, Dall'Ara traveled to Okayama, Japan to officially add the Yakageya Inn to the list of authentic scattered hotels.
Having an active organization promoting this unique vacation option is important because the requirements help authentic places stand out, even in a sea of other options.
At the same time, the hotel-like services and tourist-friendly layout of alberghi diffusi make them different from newer trends like Airbnb. Sharing economy accommodation services can vary widely, but hotel-like experiences are certainly not the norm. For people who want to live in a real neighborhood instead of a tourist bubble, Airbnb and its peers are usually the only options.
In this sense, the alberghi diffusi offers the best of both worlds: an authentic local experience in a non-big-brand hotel, but with the services of a hotel. It's an arrangement that benefits tourists and villagers. Villagers have a reason to remain and invest in their town. They can earn additional income from their property or a tourist-focused business, while guests can experience an authentic village without skipping the hotel services they desire.