Orbit of future Lunar Orbital Platform-Gateway to be very unstable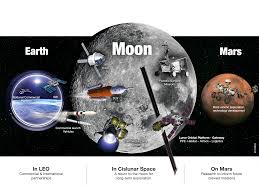 Moscow: The orbit of the future Lunar Orbital Platform-Gateway will be very unstable and will require regular adjustments, Ballistics Specialist of Russia's Energia Space Rocket Corporation Rafail Murtazin said.
"This is a very unstable orbit, which means you will have to make maneuvers during each rotation. Each rotation takes seven days and during seven days you will have to make two adjustments. If you don't do this, you will fly away from this orbit in ten days," Murtazin said at the readings on cosmonautics devoted to Soviet Rocket Designer Sergei Korolyov.
As the specialist pointed out, frequent orbit adjustment maneuvers will reduce the reliability of the outpost's operation.
Russian scientists to test telemedical technologies in experiment for future lunar flights
The orbit of the future lunar outpost will have a minimum altitude of 4,500 km and a maximum altitude of 75,000 km, he said.
The expert suggested using a high near-Moon orbit of 10,000 km instead of the initial version.
"A high lunar orbit will, perhaps, be better. It is also unstable but it is predictable and we will have at least some time for its adjustment," he said, adding that the orbit he had proposed would require just two-three adjustments a year.
The plans to create a lunar orbital station were unveiled in the spring of 2016. Citing the documents of Russia's Energia Space Rocket Corporation, reports said that preliminary work was underway with the US Boeing Company on the issues of creating the near-Moon infrastructure in support of the national space agencies' future plans.
It was earlier suggested that the lunar orbital outpost would be called Deep Space Gateway. Now the NASA documents mention it as the Lunar Orbital Platform-Gateway.
In late September 2017, Roscosmos and NASA signed a statement at the international astronautical congress in Adelaide (Australia), which reflected both parties' intention to jointly work on the implementation of space exploration initiatives. Both sides stated their intention to plan work on creating the habitable outpost in the near-Moon space.