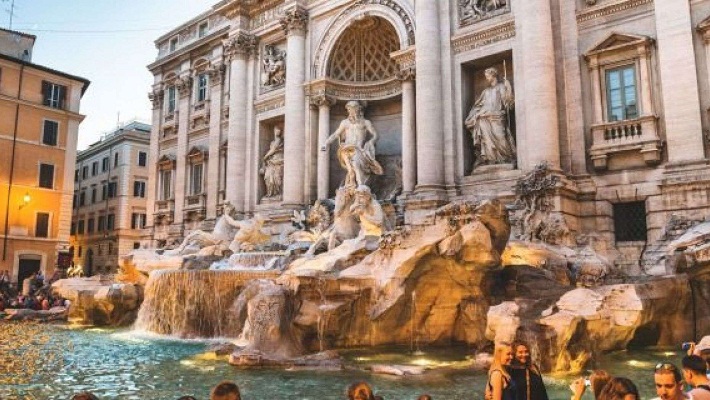 Rome: The Trevi Fountain is one of Italy's most famous tourist attractions. When in Rome, it's a vital place to get that all-important Instagram snap.
So when two women both wanted their selfie at the same spot at the same time, of course, they would be polite and let each other have their moment.
The two tourists started pulling hair and brawling at the Trevi Fountain in Rome, Italy. Well, not quite.
Italian newspaper La Repubblica reports a 19-year-old tourist from the Netherlands and a 44-year-old Italian-American started jostling for the same place before fists started flying.
The two tourists had to be separated before police stepped in. Family then joined both scrappers and four police officers had to break it up.
The brawl comes days after news that a designated pathway is being planned for the Trevi Fountain due to overcrowding.
The Baroque monument was catapulted to fame by the 1960 film La Dolce Vita, but the days when visitors could admire it in relative solitude – let alone wade into it waist-deep as Anita Ekberg did in the Federico Fellini classic – are long gone.
These days, the fountain, and the piazza in which it is located, is packed with tourists night and day.
Visitors clamber over the flanks of the imposing monument, drop melting ice cream on its travertine stone and dangle their feet in the water to cool off during the summer months.
The tourist hordes attract a small army of itinerant vendors peddling selfie sticks, postcards and fridge magnets, as well as street artists dressed as Roman centurions and legionaries.
"We're looking at the idea of having a route which would allow tourists to see the Trevi Fountain but without stopping," Andrea Coia, a city councillor, told La Repubblica newspaper.
The aim would be to replace the current free-for-all with controlled access to the fountain, "because the situation has become unlivable", said Coia, a member of the populist Five Star Movement.
Celebrated as one of Rome's must-see attractions, the Trevi Fountain also proves irresistible to drunks, exhibitionists and sweaty tourists longing for a refreshing dip during the torrid heat of the summer.
Two years ago, a British woman named Delilah Jay waded into the fountain in an evening dress, in imitation of Ekberg's scene with Italian heart-throb Marcello Mastroianni in La Dolce Vita.
She blew kisses to crowds of tourists but was then apprehended by police officers and fined €450 for her stunt.