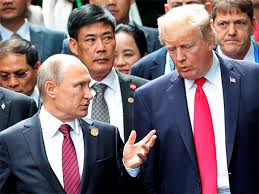 Brussels: NATO strives towards a constructive relationship with Russia despite the US' exit from the Intermediate-Range Nuclear Forces Treaty, a statement by the NATO member countries informed.
"We continue to aspire to a constructive relationship with Russia, when Russia's actions make that possible," the document states. The alliance places the responsibility for the US exiting the INF treaty on Russia. The exit procedure will take six months.
US Secretary of State Michael Pompeo said on Friday that the US would suspend its obligations under the INF Treaty on February 2.
US President Donald Trump said earlier in a statement that the United States will get down to working on several options regarding a military response to Russia's violations of its obligations under the Intermediate Nuclear Forces Treaty in order to neutralize Moscow's advantages.
A US official said that the US would notify Russia, along with several post-Soviet states, officially via a diplomatic note of their decision to apply Article 15 of the INF Treaty and to suspend their obligations under the treaty.
The INF Treaty, signed by the Soviet Union and the United States on December 8, 1987, took effect on June 1, 1988. It applies to deployed and non-deployed ground-based missiles of intermediate range (1,000-5,000 kilometers) and shorter range (500-1,000 kilometers). Washington on many occasions accused Russia of violating the Treaty but Moscow strongly dismissed all accusations and expressed grievances concerning Washington's non-compliance.
Pompeo said on December 4, 2018, that Washington would suspend its obligations under the Treaty unless Moscow returned to compliance within 60 days. On December 5, Russian President Vladimir Putin told reporters that Washington had not provided evidence proving Moscow's violations of the document. He also said that Russia called for maintaining the Treaty but if the United States pulled out of it, Moscow would have to give an appropriate response.