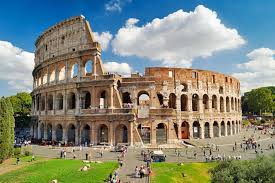 Rome: Rome's Colosseum topped the world's most popular tourist attractions according to Trip Advisor, and Alfonsina Russo, director of the Colosseum archaeological park, reported that Rome's Colosseum had already attracted 7.4 million visitors in 2018, an increase of 5.7 per cent compared to last year.
Russo was presenting the Colosseum's new logo and interactive website. She said that "accessibility is a priority" for the park which, in addition to the Colosseum, includes the Roman Forum, the Palatine Hill and the Domus Aurea.
Additionally, Italy scored highly on the top ten list, with the Vatican Museums ranked in second place and Venice's Grand Canal in tenth position.
Close to the heart of town, the Bettoja Hotel group's Mediterraneo Hotel was designated a Vincolo Monumentale, which roughly translates into a national monument of artistic and historic significance. This took place as the Roman-family-run group begins a renovation expanding its dining rooms to include event space and refurbishment of its guestrooms.
In other positive developments in Italy, renowned Italian architect Renzo Piano has agreed to oversee the construction of a new Genoa bridge to replace the one that collapsed and killed 43 people on August 14. The new project is expected to be completed within 12 months.
At the same time, yesterday Rome came to a grinding halt following protests that represented rental car companies and hundreds of taxi drivers denouncing the 5-Star Movement and new legislation that may lead to workforce reductions.
Police took precautionary steps and restricted access to Piazza Venezia that disrupted traffic throughout the Eternal City. Public transportation was either halted or re-routed, snarling the commute for the ride home.
Similar protests are expected in the coming month before the legislation is slated to take effect on January 1, 2019. And no advisory exists other than the suggestion that visitors avoid the demonstrations.
With regard to a singular alarming image of a tourist bus aflame, authorities were quick to explain, this was due to a malfunction of the bus itself and not due to an act of violence or aggression.