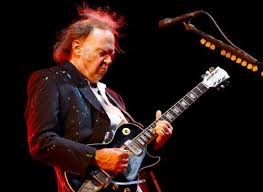 Rome: Music icon Neil Young keeps on "rockin' in the free world" — and Italian superfan Sergio Bratti has travelled the world to see him do it.
When Bratti, who lives in Ferrara, Italy, attended concerts Sunday at the Burton Cummings Theatre and Monday at the Centennial Concert Hall, it marked the 83rd and 84th times, respectively, he has seen Young perform.
"I saw Neil for the first time in 1982 in Italy in Verona, and it started a love for his music and his soul about his music," Bratti, 54, said in an interview prior to Monday's concert in Winnipeg. "The man and the lyrics and the sound and his voice about his music, for me, it rocks."
While following Young has taken him across Europe and the United States, Bratti said the two shows in Winnipeg were his first in Canada — and it was meaningful they were in the city Young spent formative years.
"Winnipeg is the place where Neil was growing up, and where it was the start of his music life. I wanted to see this city and this place where Neil lived," said Bratti, who works as a senior retail manager.
In the early 1960s, Young lived in a house at 1123 Grosvenor Ave., attended Kelvin High School and played music at the Crescentwood and Earl Grey community centres. Bratti said he was able to see the house, but didn't make it over to the high school.
He has not officially met Young, Bratti said, adding he has only "stolen moments": brief encounters with the music icon "for just a few seconds" in 1995 in Leon, Spain, and in 1996 in Prada, Czech Republic.
Bratti has a custom T-shirt made that has a picture on its front of Young wearing a shirt with a picture of Bratti wearing a shirt with Young on it. The Italian wears it each concert.
"My dream is to see Neil one more time to give him this T-shirt. Not for fun, but only because I would like to tell Neil that I travel all around the world to see him and hear his music. I don't want nothing from Neil. I only want Neil to know this," Bratti said.
He said he waited near the backstage door after Sunday's concert, but he had to give up after an hour because it was too cold (-35 C with the wind chill).
On Saturday, he met his old Squires bandmate Jack Harper and they toured some of their old haunts, including the Crescentwood club, where the Squires performed in the early 1960s, and the house where Young wrote some of his first songs.
Bratti joked it is the coldest weather he has ever experienced; while it is the cold season in Ferrara, average temperatures are about 2 C to 10 C this time of year. He posted to his Instagram account a video of Winnipeg's snowy downtown with a frozen-face icon.
Meanwhile, Young, 73, posted a comment about his time in Winnipeg to his website after his Sunday night concert. Both the Sunday and Monday shows were played with members of Crazy Horse, Young's longtime associates.
"What a feeling to be home in Winnipeg, especially now, with all of you. We are having a memorable time here. There's something very special about this visit with the Horse. Seeing the old places where I started with my first band… then playing the night in this grand old (theatre)… surrounded by people I love, life is surely good."