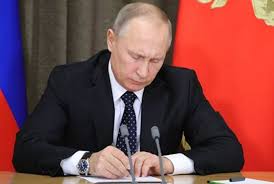 Moscow: Russian President Vladimir Putin has signed a decree abolishing some special economic measures against Turkey. The document has been published on the official online portal of legal information.
The decree expands the group of Turkish citizens who are no longer subject to restrictions that were imposed on Turkey in November 2015.
The restrictions are no longer applied to the following groups of Turkish citizens traveling to Russia: drivers involved in international road haulage, holders of valid special passports, who go to Russia for short-term business trips, including workers of the Turkish diplomatic mission in Russia.
It is noted that these restrictions will be lifted if a similar decision is taken by the Turkish side.
The restrictions were imposed by the presidential decree of November 28, 2015 on measures to ensure Russia's national security and protection of its citizens from criminal actions and on the use of special economic measures against Turkey. The move followed the November 24, 2015 incident when Turkey downed a Russian Su-24 bomber at the border with Syria.