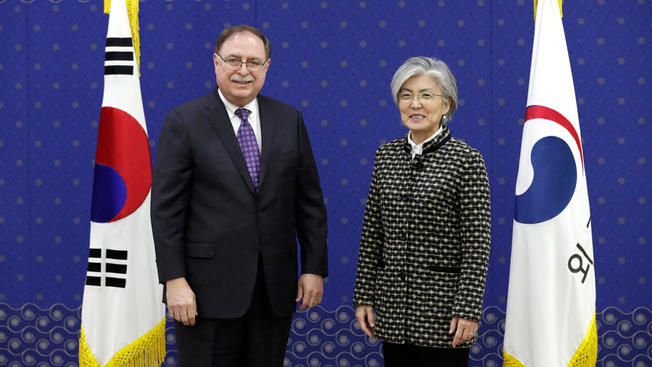 Washington: The United States and South Korea struck a hurried deal on the cost of the U.S. military presence, papering over a potential vulnerability in an upcoming U.S.-North Korean presidential summit later this month.
Under the agreement, South Korea will contribute about $890 million a year for the U.S. military presence, an 8.2 percent increase from the previous five-year deal that expired at the end of last year.
That's less than the billion dollars or more the U.S. had asked for. South Korea was already paying half of the cost of hosting United States Forces Korea (USFK), and the U.S. reportedly asked for a 50 percent increase or more.
The current deal still needs to be ratified by South Korean lawmakers before taking effect.
Seoul had sought a three-to five-year agreement, but only got one, so the two sides will have to return to the negotiating table in a matter of months.
The Trump administration wants to strike similar deals with other allies who host large U.S. military bases, such as Japan and Germany, but South Korea's resistance could delay that, or make it more difficult.
Some South Korean observers worry that this marks a shift from a "rules-based international order, to a deal-based order," said Chung Kuyoun, a political scientist at Kangwon National University in Seoul.
The U.S. insists that it was not considering pulling any of its 28,500 troops out of South Korea if its financial demands were not met. But it didn't really have to, as South Korean conservatives raised that possibility for them.
"I regret that President Trump made the unilateral decision to suspend U.S.-South Korean joint military exercises during the first U.S.-North Korea summit in Singapore," said lawmaker Won Yoo-chul, in an interview in his office at the National Assembly in Seoul. "I am concerned that he may make a similar decision regarding the USFK in the second summit with North Korea."
Won, a member of the conservative Liberty Korea Party, represents the city of Pyongtaek, home to Osan Airbase, and Camp Humphreys, the largest U.S. military base outside the continental United States.
Legislation passed last year prevents the president from reducing USFK strength below 20,000 troops.
South Korea had resisted paying anything over a trillion won (?), or $890 million. Chung Kuyoun called the figure a "psychological limitation" for the South Korean public.
"Given that the economy is pretty bad, and income inequality is increasing, and average wages is going down," she said, "paying more money for the military forces will become a political cost for the current administration."