Suicide Bombing 27 killed, 13 wounded in Iran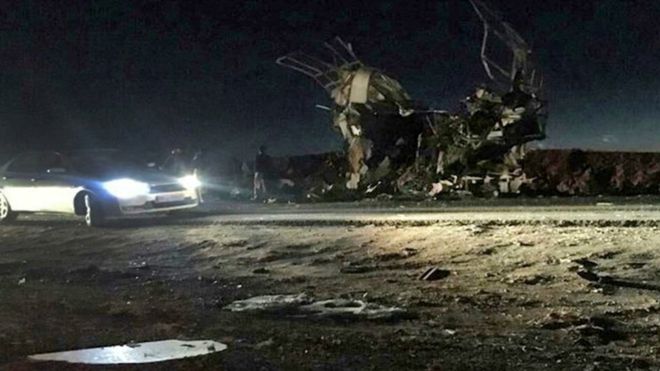 TEHRAN — A suicide bomber killed at least 27 members of the Islamic Revolutionary Guards Corps and wounded 13 on a bus in a restive region of southeast Iran on Wednesday, Iranian media reported. It was among the deadliest attacks in Iran in years.
The Revolutionary Guards, an elite Iranian paramilitary force, quickly blamed the United States for the assault, which came during the week that Iran's leaders have been celebrating the 40th anniversary of the Islamic Revolution, which overthrew the American-backed shah in 1979.
The Revolutionary Guards did not explain precisely how the Americans could have been involved in the attack. But Iranian officials suggested it was more than coincidental that it happened as the Trump administration was hosting an anti-Iran-themed meeting in Poland that included delegations from Iran's regional adversaries, Israel and Saudi Arabia.