China's deliverymen work hard for better life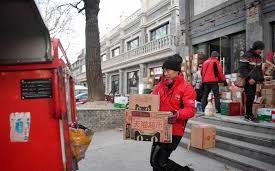 Beijing: Although he was busy working and did not have the chance to return to his hometown for a traditional Chinese Lunar New Year celebration, deliveryman Qi Nannan is quite satisfied with the just-ended Spring Festival holiday.
"I had a big dinner with my family after work on the Lunar New Year's eve," he said. A native of Chifeng city of Inner Mongolia Autonomous Region, Qi, 32, has spent the past four years in Beijing working as a deliveryman. He feels like he is part of the city since his parents, wife and son all live here with him.
More excitingly, he was among the deliverymen visited by President Xi Jinping on Feb. 1. While visiting primary-level cadres and residents in Beijing ahead of the Spring Festival, Xi dropped in on the express delivery station where Qi was on duty.
When delivering a New Year speech on December 31, 2018, Xi also extended gratitude to millions of hardworking people, such as deliverymen, sanitation workers and taxi drivers.
Feeling encouraged, Qi is full of hopes. "I believe life will be better as long as we work harder." During the Spring Festival holiday from Feb. 4-10, Qi earned a bonus of 414 yuan (61 U.S. dollars) and earned a higher commission for the extra work.
Qi is a witness to the rapid development of the express delivery business in recent years. "Nowadays, the whole process can be completed online, from placing orders to settling the freight and tracing the delivery, which was impossible years ago," he said.
According to the Beijing branch of SF Express, the company Qi works with, more than 3,000 deliverymen, about 30 percent of the company's total in Beijing, stayed and worked during the Spring Festival holiday to ensure parcels were delivered on time.
With China's expanding e-commerce sector, the country's express delivery business has seen rapid growth in recent years. Chinese express delivery firms handled more than 50 billion parcels in 2018, comparing to 9.2 billion in 2013, according to China's State Post Bureau.
The number of China's delivery staff grew 50 percent from 2016 to 2018, reaching around 3 million, according to a report jointly published by CBNData and online shopping platform Suning.com.
In Hangzhou, capital of east China's Zhejiang Province, deliveryman Peng Dengzhong made an extra 4,000 yuan working during the Spring Festival holiday.
Wearing a thick down jacket, riding a fully-loaded tricycle, 30-year-old Peng worked from the early morning until 7 or 8 p.m. every day during the holiday.
He is in charge of a delivery station under Alibaba's Tmall. The station, with 12 staff, handles an average of 1,100 parcels per day.
Leaving his hometown in Henan Province for Hangzhou in 2008 as a high school graduate, Peng once worked as an air conditioner repairman, clothes seller and restaurant waiter.
"I got a sense of fulfillment working as a deliveryman. Besides sending parcels, I also learned how to operate the online system, how to improve delivery efficiency and how to lead a team," he said. Peng now earns around 10,000 yuan per month, about the same as some white-collar workers.
As a food courier in Hangzhou, 38-year-old Lei Haiwei made the headlines by winning the Chinese Poetry Competition, a popular TV show, in April 2018.
Lei had been a deliveryman for seven years. Obsessed with ancient Chinese poems, he spent most of his spare time reading and studying poetry. Even when he was riding to deliver parcels or food, he would recite poems by heart.
"The job as a courier has been a blessing to me, it taught me to be down to earth, and poetry gave me a positive mindset so I could face up to any difficulty while working," he said.
In July 2018, he left Hangzhou for Chengdu in Sichuan Province and became a staff of a training school. He is in charge of compiling textbooks, making teaching videos and giving lectures about poetry.
"Whenever I gave lectures, I would share with the students my experience as a deliveryman. The spirit of hard work is a life-long legacy the job has given me," he said.
According to the report by CBNData and Suning.com, people born in the 1980s comprise the majority of delivery workers. From June 2017 to June 2018, the number of deliverymen with a bachelor's degree grew 92.53 percent in Nanjing, capital of Jiangsu Province. At the same time, more people are showing respect and care for the couriers.
Peng Dengzhong recalled that during the Spring Festival holiday, many customers treated him with a cup of hot tea or some snacks when he went to their doors. "It's so heart-warming. The customers will treat you well as long as you are professional and sincere," he said. "I think it's a promising job. You get what you pay for," he added.