Russian cosmonauts to make next spacewalk in May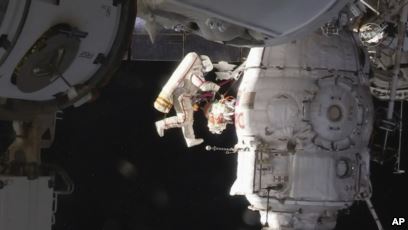 Moscow: Russian cosmonauts are scheduled to make the next spacewalk in May this year, Russia's Energia Space Rocket Corporation said in a statement.
"A spacewalk from the Russian segment of the International Space Station (ISS) is planned for May this year. The available resources for fulfilling the expedition's program are sufficient," the statement says.
Under the Russian program, spacewalks are conducted only by cosmonauts of Russia's State Space Corporation Roscosmos. These spacewalks are made from the orbital outpost's Russian segment.
A source in the Russian space industry said that the spacewalk in May will be conducted by cosmonauts Oleg Kononenko currently staying on the space station and Alexei Ovchinin scheduled to fly to the world's sole orbiter on March 14. The source did not specify the operations, which the cosmonauts will carry out during their spacewalk.
Cosmonaut Kononenko has been working aboard the ISS since early December 2018 together with NASA astronaut Anne McClain and astronaut of the Canadian Space Agency David Saint-Jacques. The first manned launch to the ISS this year is scheduled for March 14. A Soyuz-FG carrier rocket with the manned Soyuz MS-12 spacecraft will lift off to deliver Russian cosmonaut Alexei Ovchinin and also NASA astronauts Nick Hague and Christina Koch to the space station.
Ovchinin and Hague were expected to arrive at the orbital outpost back in October 2018 but their expedition was foiled by the abortive launch of the Soyuz-FG carrier rocket on October 11.
The previous spacewalk under the Russian program was conducted overnight to December 12, 2018 by cosmonauts Sergei Prokopyev and Oleg Kononenko. The spacewalk was required to inspect a hole found in the casing of the manned Soyuz MS-09 spacecraft in August last year.