Italy: Pedalling through Puglia ripe with memorable moments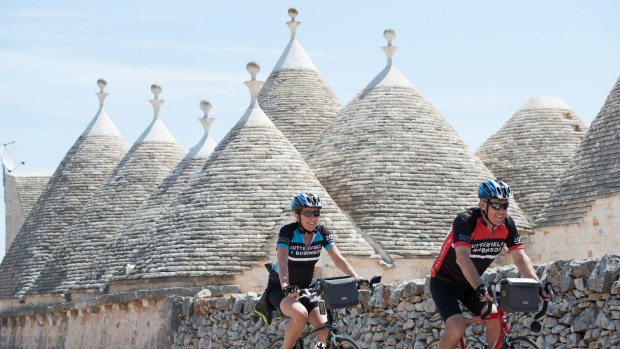 Rome: Pedalling through Puglia – that sun-drenched corner of south-eastern Italy – is ripe with postcard-perfect scenes and memorable moments.
You'll breeze past rolling landscapes carpeted with olive groves and vineyards, whitewashed hill towns and fishing villages, precipitous cliffs and thousands of trulli (ancient stone huts with quirky conical-shaped roofs).
And then you have potential pit stops such as Villa Massari. Looking like something you could imagine sketched as an illustration in a historic romantic novel, it's a fortified farm and private family estate that is so secluded we'd have whooshed right past it if it wasn't for the audio directions coming from the electric tablets strapped to our Bianchi bicycles.
We're on a Puglia cycling tour with Butterfield & Robinson, a luxury operator that peppers its itineraries with unique cultural encounters and flavour-filled food and drink.
Several years ago, B&R's founders were out exploring the "Heel of Italy's Boot", as Puglia is nicknamed, when they bumped into Villa Massari patriarch Vincenzo, who was out riding one of his antique horse-drawn carriages.
Butterfield & Robinson peppers its itineraries with unique cultural encounters and flavour-filled food and drink.
They got chatting, were invited to the estate and it was agreed that future groups on the company's Puglia cycling tours would call in for lunch.
Biking down an arched driveway shaded with ivy and wisteria, we're greeted by Vincenzo's daughter, Silvia, who invites us to park up and leads us into the estate's grand interior courtyard.
Studded with cacti and luxuriantly-leafed trees, radiant, butterfly-attracting flowers and Baroque buildings made with the distinctive yellow "Lecce" stone that is so common in this part of Puglia, the courtyard has such a timeless charm you half-expect to see characters from a costume drama, say the Italian equivalent of a story by Jane Austen, Charlotte Bronte or Thomas Hardy, milling about. An ancestor of Vincenzo's built Villa Massari in the mid-18th century.
Complete with high perimeter walls and deep cisterns, it was designed to be a self-sufficient rural village, sheltered from the brigands and coastal raiders that would prowl the Pugliese countryside.
Fruit and vegetables still grow in abundance on the family's 100-hectare estate, including tomatoes, lemons, oranges, olives and wheat for pasta, and they've recently diversified by opening a zip-line adventure park.
Across the courtyard from the estate's palatial main house, we enter the deconsecrated chapel, in which Silvia's sister got married three years ago.
Seated on wooden pews, we listen to an audio recording of a singing choir, then take it in turns to tug and toll the hand-pulled bell behind the chapel.
There's more to pique our interest in the old stables, converted to house Vincenzo's magnificent collection of restored vintage carriages.
The man himself appears to show us some of his favourites. There are painted wooden carriages with cushioned seats, including the one that took Silvia to her first Holy Communion.
Others are more rustic like the one dating from the late-17th century, before brakes were invented.
The driver, we're told, used to have to get off to stop the carriage moving. Standing by a retired mail coach, which used to deliver post between Poland and Germany, Silvia begins pulling envelopes from a drawer and hands an individually marked one to everyone in our group.
Returning to the courtyard, we find a picturesque buffet spread laid out for us (think: vegetable skewers, cantaloupe and prosciutto, artichokes and cheese, sun-dried tomatoes, potatoes, mussels and risotto).
Plied with local wine, including an excellent chilled Pilu Rose, we enjoy our picnic-style lunch at tree-shaded iron tables, where everyone is sharing superlatives about how lovely and idyllic this place is.
Our savoury dishes finished, some of us wonder out loud where dessert is when we hear the jingle of bells.
It's our guides, Roberto and Marella, pushing a retro gelato carriage. It has red and white awning, bodywork etched with painted owls, butterflies and flowers, and is stocked with freshly made chocolate and stracciatella gelato.
After slurping this, we're offered espresso and told that, when we're ready – and there's no rush, honestly, take your time – we can get back on our saddles and spend another afternoon soaking up the delights of Puglia.