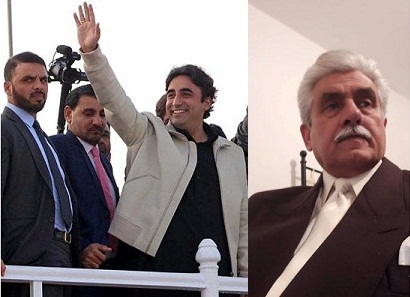 Munich: Pakistan People's Party (PPP) chairman Bilawal Bhutto Zardari has said that the last general elections were snatched away from the PPP through rigging.
In a meeting with PPP Germany chapter led by Syed Zahid Abbas Shah and other PPP Europe office bearers in this German city, Bilawal said the people will again vote the PPP to power.
The PPP chairman said he would not make any compromise on the 18th Amendment to the constitution and also denied that his party seeks any amnesty from government.
He said that the Joint Investigation Team's (JIT) report was false and consisted of a bundle of lies. He said his father, Asif Ali Zardari, was put behind bars for 11 years, but "even then we did not run away." He further said that if Zardari is arrested, the party will contest the case through legal means.
Bilawal said his party would support the parliament if it amended the National Accountability Bureau (NAB) law and called for across-the-board accountability. "National Reconciliation Ordinance (NRO) is for dictators, Jahangir Khan Tareen, Aleema Khan and Provisional Constitutional Order (PCO) judges but vendetta is only for opponents."
Bilawal said party leaders neither wanted an NRO nor would they seek it, adding "we would take up issues in and outside the parliament and launch a struggle for democracy and the people". He said that no forward bloc would be created in PPP and such blocks were only made in the minds of their opponents.
Speaking on the occasion PPP Germany President Syed Zahid Abbas Shah said the PPP had always stood for democracy and human rights.
He said the PPP will continue to fight with terrorism and extremism that trying to destroy the country. He said the PPP has strived for a democratic dispensation in the country and have struggled against dictatorship and it will continue to do so.
Shah said the party believed in a tolerant society and wanted tolerance in politics as well. "Zulfikar Ali Bhutto and Benazir Bhutto believed in reconciliation and understanding others point of view. They taught us to take decisions with consultations," he said.
He said the PPP leaders wanted the parliament to be strong and only for this reason during the PPP government (2008-13) all authority and power which the President enjoyed were given to the parliament.
He said the PPP will never give up the rights of the people through parliament and will continue to safeguard the rights of the downtrodden masses of the country.