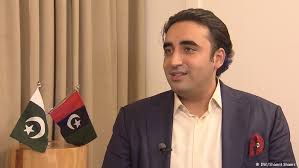 London: Pakistan People's Party (PPP) chairman Bilawal Bhutto Zardari Wednesday said that 'puppet' Prime Minister Imran Khan cannot tackle the critical situation Pakistan is currently in.
Bilawal added that Pakistan was currently going through internal and external challenges, slamming Khan by opining that a selected and puppet Prime Minister can't tackle this critical situation.
Addressing a press conference here, he especially mentioned that there would dire consequences following the devastating Pulwama attack and said that in wake of this attack, Khan is busy in political stunts which will lead the country towards total destruction.
"Islamabad is following a policy of discrimination and confrontation with the provinces of which result would be more hatred and anger within the country," the PPP Chairman added.
"We are not scared of Islamabad but want to make it clear that our workers usually say that Rawalpindi has always been used as 'Karbala' for PPP," he put forth.
Bilawal said the National Accountability Bureau (NAB) and other institutions were being used for political engineering.