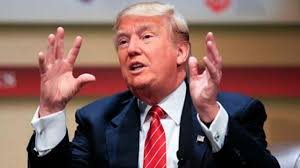 Washington: United States President Donald Trump – while commenting on the ongoing Pakistan-India tensions – said that it would be wonderful if both the countries would get along.
Trump made these comments while answering the questions of media during a signing event for "Space Policy Directive 4" at Oval Office.
"I have seen it. I have watched; I have got a lot of reports on it. We will have comment [on it] at an appropriate time. It would be wonderful if they [Pakistan and India] get along."
"It seem like that was a horrible situation but we are getting reports and we will have a statement to put out," asserted the US president.
During a press briefing earlier, State Department Deputy Spokesperson Robert Palladino once again condemned the Pulwama attack in the strongest terms possible.
"We have been in close communication with the Government of India to express not only our condolences but our strong support for India as it confronts this terrorism. And we have a close, cooperative relationship with India, a security relationship, and that includes counterterrorism operations. And so we're committed to working with India, the Indian government, and on these counterterrorism efforts, both bilaterally and multilaterally, including at the United Nations," added Palladino.
"As far as Pakistan goes, we've been in contact with Pakistan on this issue. We urge Pakistan to fully cooperate with the investigation into the attack and to punish anyone responsible," he stressed.