UK Queen looks elegant at historic service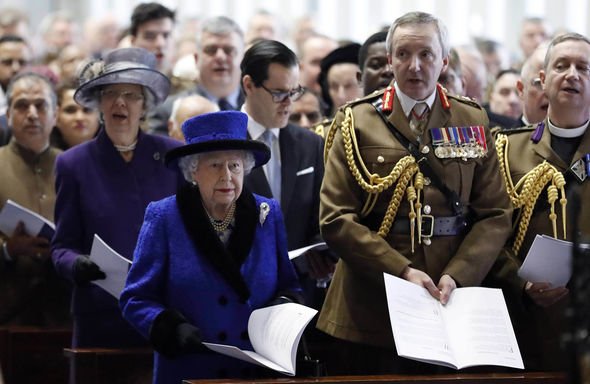 London: Her Majesty attended a service to celebrate 100 years since her grandfather King George V granted the prefix "Royal" to the Royal Army Chaplains' Department.
The monarch looked elegant as ever as she arrived at the Guards' Chapel in Wellington Barracks, Westminster. The 92-year-old wore a blue coat with black fur trim and a matching hat by Angela Kelly for the visit.
She pinned a sparkling leaf brooch to her left side and accessorised with a pair of pearl earrings and matching necklace. The Queen, who is the department's patron, paid tribute to members in a letter.
She wrote that they were given the "Royal" prefix on February 22 1919 in recognition of their "outstanding service and sacrifice" during World War 1.
The Queen added: "They have remained quietly dedicated and steadfast in their calling, providing spiritual support, moral guidance and pastoral care to all soldiers, wherever they serve."
Army chaplains are professionally qualified officers who wear the British Army uniform and travel overseas with units, but as non-combatants they do not bear arms.
Following the service, the Queen viewed three paintings commissioned to mark the centenary.
The artist, Harry Parker, served in Iraq and Afghanistan with the Rifles Regiment and lost both his legs while on active duty in 2009.
He said: "I hope she liked them. She asked me what I was up to and I told her I was painting and writing and she said 'Well done', which was really nice.
"It's a real honour to be asked to do the paintings anyway, and for the Queen to see them was really special." Mr Parker said the chaplains were "always such an amazing reassuring presence around the camp" when he served in Iraq and Afghanistan.
He added that the service "really had a special feel" because the Queen attended. The monarch went on to greet serving and former chaplains.
The Queen has been busy with royal duties since returning from her winter break in Sandringham earlier this month.
Last Thursday, she visited Watergate House – a former top-secret location in central London – to celebrate 100 years of Britain's intelligence, security and cyber organisation GCHQ.