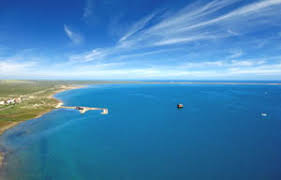 Xining: China's largest inland saltwater lake saw its water level rise 0.48 meters in 2018 as a result of increased rainfall, the local meteorological center said.
Qinghai Lake, situated in northwest China's Qinghai Province, has been expanding since 2005. The water level rose to 3,195.41 meters at the end of last year, according to the Qinghai hydrology and water resources investigation bureau.
Statistics show the area where the lake is located saw average precipitation of 503.7 millimeters in 2018, 30 percent higher than that between 1981 and 2010.
Experts said the rising level of the lake could help increase the area's humidity and temperature, which contributes to the improvement of the region's wildlife habitat and ecosystem.
Dubbed as the "most beautiful lake in China," Qinghai Lake plays an important role in the ecological security of the Qinghai-Tibet Plateau. The lake had been shrinking since the 1950s, but combined effects of conservation and changes to the regional climate turned things around in 2005.