PM offers dialogue to India as PAF shoots down two Indian jets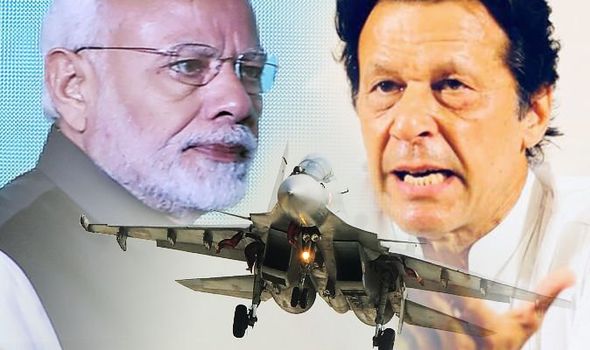 Islamabad: Prime Minister Imran Khan in his address to the nation on Wednesday reiterated his dialogue offer to India for resolving issues between the two nations.
"I wanted to take the nation into confidence over the prevailing situation in the country," he remarked after Pakistan Air Force (PAF) shot down two Indian Air Force (IAF) fighter jets for violating the Pakistani airspace again. A pilot was also captured.
"We offered India that Pakistan will conduct investigation into the Pulwama attack if actionable evidence is provided to us. We were ready for full cooperation," reminded the premier.
"We understand the grief caused to families when lose their dear ones. I have visited hospitals and seen the pain of people affected by violence.We faced more than 70,000 casualties during the last decade know the feelings of the bereaved families. That is why I offered investigation into the incident," he explained.
"It is not in our interest that anyone uses our soil for terrorism or foreign land is used against us. I feared India will act due to its election compulsions and I warned them against aggression as we will be compelled to respond as no sovereign country can allow the violation of its sovereignty," maintained PM Khan.
"When India attacked us yesterday we did not respond in haste to avoid casualties on their side. I spoke with my army chief. We took time to respond to India as we wanted to ascertain our damages first. We were ready to take action today," he said.
PM Khan notified that the sole purpose of their action today was to convey message that if India can enter their space, Pakistan can too.
"Two of their MiGs have been shot down by Pakistani forces and their pilots have been captured," he noted.
"All wars in world history have been miscalculated, those who started the wars did not know where it will end. World War I was supposed to end in weeks, it took six years. Similarly, the US never expected the war on terrorism to last 17 years," pronounced the Prime Minister.
"So, I want to ask India, with the weapons you and we have, can we afford miscalculation? Should we not think if the situation escalated?" PM Khan questioned.
"If a war takes place, it will not be in my or Narendra Modi's control. If you want any kind of talks on terrorism, we are ready. Better sense must prevail. We should sit down & talk," he concluded.
Earlier, PM Imran Khan chaired a meeting of the National Command Authority.
The NCA is responsible for policy formulation and exercises employment and development control over all strategic nuclear forces and strategic organizations. It will comprise Employment Control Committee and Development Control Committee as well as Strategic Plans Division which will act as secretariat.
Prime Minister Imran Khan, Leader of Opposition Shehbaz Sharif and former president Asif Zardari would also attend the joint session of the parliament on Thursday.