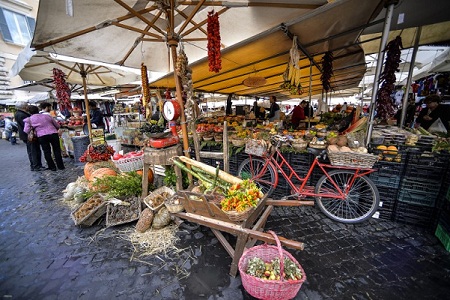 Rome: Italy is rated as one of the world's healthiest places to live. But what is it about the land famous for pizza and pasta that makes it so healthy?
Almost everyone reported being at a healthier weight since making the move – despite many admitting to a weakness for pizza, pasta or gelato.
"I lost three stone in four months and couldn't put weight on no matter how much I ate," said Peter Barber in Campania. "Due to eating healthy and being active."
Frederick Bee in Siracuse, Sicily, was one of many who reported accidental weight loss."I lost 15 kilos in weight in my first six months without even trying," he said.
Jennifer Morgan in Florence wrote: "When I'm in the US, I'm underweight (sometimes severely) because of a poor appetite, and I never have the energy to do anything. Here, not only do I have a tremendous appetite (the food was the first thing I fell in love with here) but I am finally at a healthy weight!"
"I am also more active, always wanting to be outside doing something. I feel better in body, mind, and spirit whenever I am in Italy and that is ultimately why I decided to move here."
Many agreed that this general feeling of wellbeing is one of the biggest benefits.
"I feel physically better. I sleep better, I eat better, and I socialize more," wrote Mary Jane Peluso, who lives part-time in Summonte, Avellino.
Vicki Comisso in Monopoli, Puglia, said: "My general health has improved while living in Italy. I sleep much better, have reduced inflammation – my fibromyalgia symptoms have gone away, blood pressure is lower and overall I feel better."
And within three months of moving to Florence, Trisha Mehis said she "had lost 27 pounds and my blood sugars normalized. I had suffered from ulcerative colitis and experienced remission during this time."
It might sound miraculous, but readers told us it's as simple as eating better and getting more exercise. The more relaxed way of life and more time spent outdoors helps, too.
"It's easier to eat fresh produce because it's grown close by. Italians have made me much more aware of "genuine" food," said Mary Judge in Puglia.
"Most of the food I buy has travelled less distance to the shop than I have and there is virtually no pollution here," said Ed Foley in Abruzzo.
A lot of people cited extra virgin olive oil as the healthiest part of their diet, while others credited the amount of tomatoes they now eat and the increased amount of water they drink.