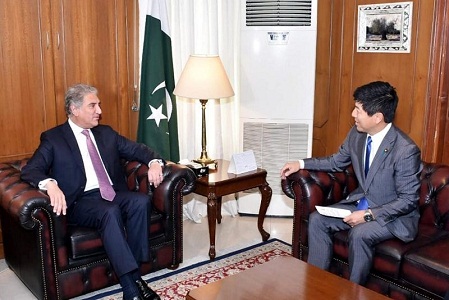 Islamabad: Foreign Minister of Japan Taro Kono has called Foreign Minister Makhdoom Shah Mehmood Qureshi to discuss the situation of peace and security in the region.
Foreign Minister, Qureshi briefed him on the Indian aggression against sovereignty and territorial integrity of Pakistan. He said that Pakistan had acted in self-defence and to demonstrate its capability and will to defend Pakistani territory against any external aggression. Pakistan wishes to de-escalate the situation.
The Foreign Minister mentioned recent measures for de-escalation taken by the Government of Pakistan which include: return of the Pakistan High Commissioner to New Delhi after completion of consultations, sending a delegation to India on 14 March 2019 to discuss draft agreement on Kartarpur Corridor and commitment to continue weekly contacts at the Military Operations Directorate level. He urged the Japanese side to play its role to lower tensions in the region.
The Japanese Foreign Minister appreciated Prime Minister Imran Khan's decision of releasing the Indian Pilot to de-escalate the tensions. He encouraged India to exercise restraint and appreciated the efforts and desire of Pakistani side to resume dialogue.
The two sides reaffirmed their resolve to promote closer cooperation and expressed satisfaction over the upward trajectory in bilateral relations between Pakistan and Japan. The Foreign Minister informed him that he would undertake a visit to Japan soon, which was postponed due to the rise in recent tensions in the region.