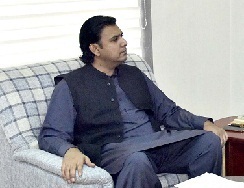 Islamabad: Senator Mustafa Nawaz Khokhar, the spokesman to the Chairman Pakistan People's Party Bilawal Bhutto Zardari, reacting to the admission of Information Minister that banned organizations will be provided with employment and loans is a reflection of PM Imran Khan's claim that he does not recognize any National Action Plan.
At a time, when there is a need to eliminate the nurseries of extremism and terrorism, the selected Prime Minister is planning on mainstreaming banned organizations.
He demanded that this issue of mainstreaming should be discussed in the Parliament. Moreover, he said that who would guarantee that these people who have been breaking the law for a long time will not do the same again.
He said that the nation heavily due to shying away from the Parliament for such important decisions in the past.
He said that avoiding NAP would be a dangerous move to make. Dealing with extremism and terrorism is too serious an issue to be left to the ministers of PM's cabinet and should be dealt in the Parliament, he said.