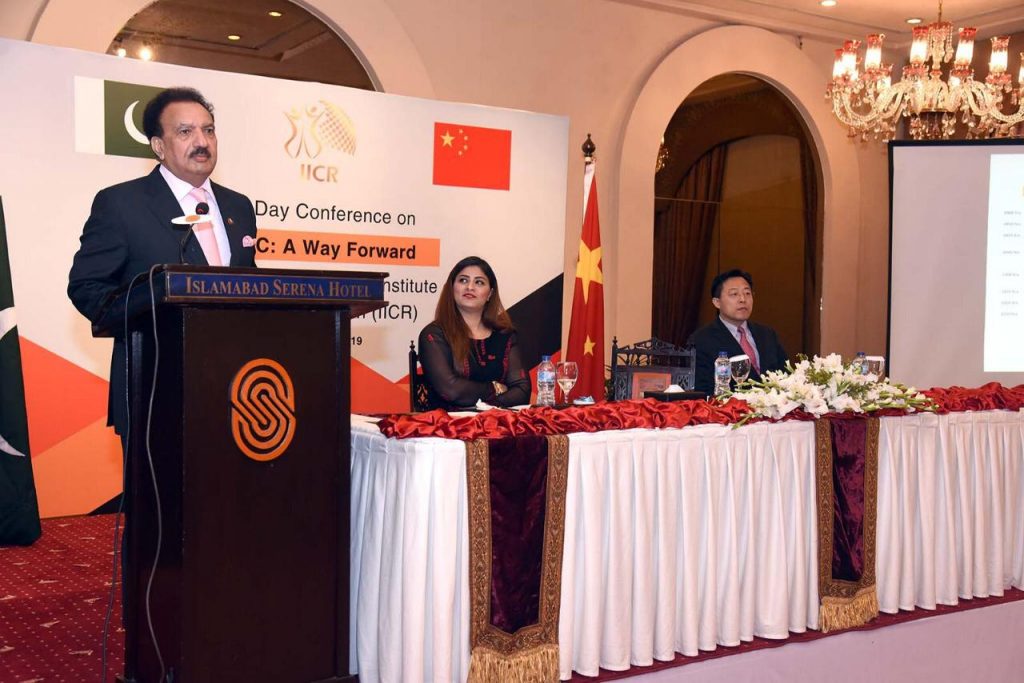 Islamabad: The Inaugural Session was held here and speakers agreed China-Pakistan Economic Corridor (CPEC) was a game changer for the region. The session started with initiated with welcome remarks by the Executive Director of IICR Sabah Aslam.
She opened the conference by claiming that with the emergence of CPEC, strengthening of long-standing relationship that Pakistan and China share in the realm of politics, economy and strategy is a compelling truth of the contemporary international relations. Both states share a bond of respect that goes beyond diplomatic relations and delves in to the social fabric of the two states.
CPEC is no doubt a game changing project and is mutually beneficial to China and Pakistan. It is a project which aims not just the economy of Pakistan but the people-people contact between the two great nations of the world. The entire Pakistani nation looks up at the project and its going forward.
After this, the Keynote Speaker, Zhao Lijian who is the DCM and Minister Counsellor to the Embassy of Chinaaddressed the guests. He began by addressing the Chief Guest Senator Rehman. He also congratulated Pakistan on the success of CPEC.
He claimed that he will make a few observations and began by reiterating that just like in China, there is a broader national consensus in Pakistan regarding CPEC. This consensus goes not just across border but extends to all areas and provinces of Pakistan. He also pointed out that this project began during the era of President Zardari and to this day this plan has been going on.
Lijian said that this is a long term plan which benefits people on both side. The major areas in which CPEC operates are; economy, energy and infrastructure. He further elaborated that after the success of the first phase, CPEC is moving towards its second phase which operates in four areas; more exhaustive work on infrastructure like Motorway 5; from Multan to Sukkur which is hopefully going to be finished ahead of time and launched by August.
He also highlighted that there is also going to be a major focus on the railway up-gradation from Karachi towards Peshawar and from Single Line to Double Line. Previously the speed would be 60 km/h and after this upgrade it will become 160 km/h. these will not affect the current operations and will take around 6 years to complete.
Further he added that Energy is another area in which CPEC is efficiently working on and will soon launch the next step in energy projects. Furthermore, Gwadar holds a special position for CPEC and because of this, currently we are working on the International Gwadar Airport through which an easy trade and export of commodities will be achieved. Pakistan and China together are working on creating international schools and hospitals in Gwadar.
Apart from that another area of special importance are the SEZ's and China has identified 9 more SEZ's. Chinese companies are working with the government in Khyber Pakhtunkhwa. Their Governor will be visiting the Second Beijing Summit and will discuss the working on one of the SEZ's, via these SEZ's there is a new area of cooperation which will be launched between Pakistan and China.
The impact on CPEC on the Private Companies and Sector will be improved five folds and will have a greater role to play. A good example in the Haier-Ruba joint venture in Lahore has spread out and has extended to $11 million worth of cooperation.
China also aims to broaden the scope of socio-economic sector for which in last month a joint meeting was convened in Islamabad. Under this more than 100 projects have been launched.
In concluding remarks he added we are also looking for international cooperation in which we will welcome third party cooperation in various energy power plans. CPEC is aiming to create 80,000 jobs and more joint ventures between each other.
After his address, the Chief Guest Senator Rehman Malik spoke to the guests. He reiterated the importance of friendship between Pakistan and China. He referred to history and recalled that whenever other state was there to support Pakistan, China was the one which stood by.
He claimed that the relationship is not just between the countries but in true essence it's between the two nations. This is a solid relationship which has evaded many things in history. The way in which they are performing and will continue to perform is indeed praise-worthy. When we say that the relationship is higher than the mountains and deeper than the sea and CPEC is the way via which the mountains and sea have become connected.
The senator added that CPEC is developing the infrastructure in many folds. There had been miscommunications which have been directed by the enemies of Pakistan and CPEC. There were various misnomers that CPEC is going to increase the debt for Pakistan and this was spread many parties who cannot stand CPEC. He said that in reality China gave loans to private companies in Pakistan and not the government.
Pakistan and China and their friendship cannot be broken down so easily and this will stand all the tests of time. He said that the Chinese government should also extend into working on formulating a plan via which the debt burden on Pakistan can be eased.
After this there was a tea break which was then followed by asecond session which was composed of various papers which were presented by the academic circle.
The first paper was presented by Dr. Talat Shabbir (Director, China-Pakistan Study Centre, ISSI) on China-Pakistan Economic Corridor: A Futuristic Outlook. The gist was China-Pakistan Economic Corridor (CPEC), a set of projects under China's Belt and Road Initiative is a bilateral economic framework that generates complimentary advantages of cooperation and connectivity leading to prosperity. Pakistan has an opportunity to build or up-grade infrastructure, address energy shortfalls, commence industrialization and revive economy. CPEC is an all-inclusive economic initiative that promises greater prosperity for people of Pakistan. Early Harvest phase of CPEC is over and most of the project related to energy and infrastructure are either completed or near completion. The ensuing phase would be of industrialization during which will building nine Special Economic Zones (SEZs) would be key undertaking. Besides addressing major socio-economic development issues, SEZs would potentially help revive industries, enhance export-oriented manufacturing, and address balance of payment crisis. Operationalization of Gwadar port too will help Pakistan become a major trading nation in Arabian Sea and Persian Gulf. Future of CPEC however, essentially depends on how we take up the challenge of building it.
The second paper was presented by Maj. Gen. ®Raza Muhammad (Chairman, IICR) on the topic of CPEC: A Harbinger of Societal Emancipation for Pakistan and A Way to Regional Peace and Stability. The main gist was that China-Pakistan Economic Corridor (CPEC) is a harbinger of societal emancipation that is expected to usher a longer lasting, multifaceted socio-economic progression, not only in Pakistan but the Region as well, thereby helping stabilise the Region that is in a volatile state since 1979. Pakistan's socio economic fabric has been tattered by the decades of instability. Society and economy developed fissures that were fully exploited by the inimical forces. Perpetuating extremism warranted protracted deployment of security apparatus incurring huge cost. The colossal loss of lives and property has caused psychological, emotional trauma and made negative immeasurable social impacts. The loss incurred over the years comes to $120 Billion plus in financial terms. Being a resilient Nation, Pakistan has been able to recover well and attain stability. Lots of efforts reforms as well as external help are considered imperative to overcome the prevalent challenges. At this point, in the time CPEC, which is a very apt manifestation of Pakistan China mutually beneficial well trusted and time tested strategic bond, appears to be the best chance for sustained socio-economic emancipation of Pakistan. The CPEC stemmed from the Belt and Road Initiative (BRI) that was initially referred to as One Belt and One Road (OBOR). When fully operationalized Pakistan shall be linked to about 66 Countries of the World, comprising two thirds of the World Population having 66% of the World GDP. The BRI comprises Silk Road Economic Built (SREB) and 21st Century Maritime Silk Road, which envisions revival of the spirit of ancient Silk Route that connected Eurasia for about three millennia. Decades of deliberations are enshrined in the concept and vision of the BRI.
The Chinese Action Plan for building BRI envisions voluntary participation. It is woven around the essence of interdependence, connectivity, and mutually beneficial commerce. Where many countries are expressing desire to be the part of this matrix. The World economic order is likely to see new gainers and losers. New orientations and reorientation can be visualised in offing, hence the media war against this expected change. In no way this should discourage China and Pakistan.
It's a momentous opportunity that China and Pakistan must make best use of for enhanced economic gains to alleviate people's sufferings. Direly needed socio economic developments can be speedily made by effective implementation of the concept in letter and spirit. It's a project of great magnitude. Some mid-course corrections, few hiccups, some irritants and delays should not be allowed to malign an economically beneficial project. One already sees the results in shape of infrastructural development, enhanced energy production, newer jobs and gradually improving businesses etc. Enlarged ambit of the CPEC, wherein KSA has joined the CPEC and Russia, Iran, Central Asian Republics, Iran and Afghanistan are likely to become partners, makes prospect of a peaceful region very bright.
Dr. Nazir Hussain (Director SPIR, Quaid-i-Azam University, Islamabad) presented the third paper on CPEC: A Cost-Benefit Analysis. The gist of the paper was that the Belt and Road (BRI) initiative and China Pakistan Economic Corridor (CPEC) are aimed at economic transformation and regional connectivity in the wider Asia in general and South Asia/Pakistan in particular. These initiatives are also to usher pipeline, trade and investment corridors in the regional environment creating positive impact. Though the entire outlay of this gigantic activity runs into 1.3 trillion dollars, amounting to 32 percent of the global GDP and covering 65 countries, the CPEC is designed to be a Pak-China bilateral project of 52 billion dollars for regional economic and trade connectivity in trans-regional perspective. However, there are various challenges in the shape of conflicting perspectives of regional states and perceived apprehensions by many stakeholders. Therefore, there is a strong need to look into the CPEC with objectivity and prepare a cost-benefit analysis for a win-win situation for all regional states and key stakeholders.
Finally, the paper on CPEC: Prospects and Challenges was presented by Yasir Masood (Deputy Director Media & Publications, Centre of Excellence CPEC). It reiterated thatthe China-Pakistan Economic Corridor (CPEC) is a long-term development project of the two all-weather friendly neighbours namely China and Pakistan. The overall aim of CPEC is to become a "Gateway of Prosperity" for both countries, and the region at large. The CPEC is focused to open various doors of prosperity, namely: trade and marketing access; industrial development and global value chains; socio-economic development & poverty alleviation; agriculture modernization & marketing; Gwadar oil city & blue economy; regional connectivity and third-party participation. This will help enhance the livelihood of the people, especially in the deprived regions of both countries.
Overall, the project fruition is surmised to be completed in 15 years through three different phases — 2013-2020, 2020-2025 and 2025-2030. Investments under CPEC in infrastructure and energy sectors, through the implementation of early harvest projects, are already reaping an encouraging economic growth of the country that will provide a springboard to the economy of Pakistan. In the first phase of implementation of CPEC (early harvest projects), priority has been given to developing rudiments of CPEC to initiate the economic activities.
Pakistan requires to effectually work on unfolding all aspects of CPEC, as well as aligning it with all relevant national, provincial and local plans of Pakistan. Therefore, both Pakistan and China, will excavate bilateral cooperation, arrange periodic meetings of experts during the next five years and beyond in order to maximize the benefits of CPEC through the implementation of various projects, strengthening the mutual communication, and cooperation between the various federal level ministries, institutions, provincial departments, business communities and stakeholders. The second phase of CPEC includes objectives that demand laborious efforts and actions by both countries to accomplish those objectives.
The session was then followed by a question and answer slot where participants and guest asked valuable questions to the panellists. The conference ended with the concluding remarks form the Maj. Gen. ®Raza Muhammad (Chairman, IICR) and shield distribution ceremony.