Bhutto would have put Pakistan ahead of developed nations: Mirza Abdul Rehman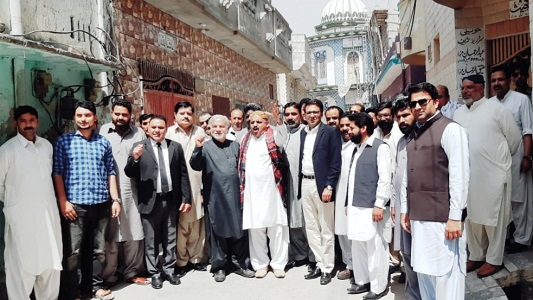 Rawalpindi: Veteran Pakistan People's Party (PPP) leader Mirza Abdul Rehman has said that Zulfikar Ali Bhutto would have put Pakistan ahead of all the developed nations if he was not 'murdered' by a dictator.
Addressing a ceremony arranged on the death anniversary of the PPP founder, Mirza Abdul Rehman said former military ruler Ziaul Haq snatched away a top leader of the Muslim ummah (nation).
The ceremony, arranged by the Mirza brothers, was attended by PPP Gujar Khan Secretary General Miraz Mohammed Ramzan, Tahir Raheel Awan, Syed Shafaat Hussain Shah, Mirza Munawwar Hussain Asif, Mohsin Sagheer Bhatti, Captain Ahmed Khan, Malik Asif Ikram, Arshad Anjum Advocate, Waqar Bhatti Advocate, Thaikaidar Ikhlaq, Raja Sarfraz, Aurangzeb Butt, Yunas Jooni, Ameer Zeb, Thaikaidar Ramzan, Malik Qaiser Hanif, Malik Fahd Ishtiaq, Raja Haq Nawaz Chohan, Subedar Abdul Majeed, Abdul Razzaq Mirza, Hafiz Bilal, Mubashar Dogar, Sher Khan, Sultan Golden and others.
Mirza Abdul Rehman said Bhutto – executed in 1979 – was the architect of the 1973 Constitution. He said Bhutto gave a vibrant, unanimous and strong structure of the state through the 1973 constitution.
"He was a friend of the poor, downtrodden and voiceless. He enlightened peasants, industrial workers, women, students and the common man about their importance and their right of franchise," Rehman said.
He reiterated the commitment of the party leadership and workers to the ideals and vision of Zulfikar Ali Bhutto and vowed to accomplish his incomplete mission and struggle.
Speaking on the occasion, Mirza Mohammed Ramzan said that Bhutto gave the country a constitution based on the principles of respect for human rights and autonomy of the federating units.
"Today as we rededicate ourselves to the political ideals of Bhutto we also pledge to protect and defend democracy, individual freedom and provincial autonomy," he said.
Ramzan said the PPP, under the leadership of Asif Ali Zardari and Bilawal Bhutto Zardari will return to power soon and complete Bhutto's mission.