Govt going nowhere: Imran Khan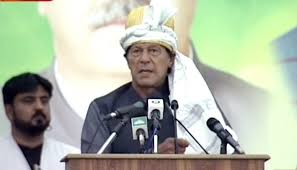 Jamrud: Prime Minister Imran Khan on Friday while lashing out at former president and Pakistan Peoples' Party (PPP) co-chairman Asif Ali Zardari said that the government was not going anywhere but you are going to land in jail.
The Prime Minister heavily criticised his political opponents for what he termed their efforts to hide their corruption and incompetence during a rally in Jamrud town of Khyber Agency.
Addressing a public gathering in Jamrud on Friday, the Prime Minister said that Pakistan is going through difficult economic time but it will be over soon, adding that during the tenure of Pakistan Peoples' Party (PPP), Pakistan's total debt was Rs 6000 billion which soared to Rs 30,000 billion during the tenure of Pakistan Muslim League (Nawaz).
Imran Khan challenged the PPP co-chairman to hold demonstration in Islamabad for at least a week and said that a sit-in is only successful when you deliver the public's narrative.
"I invite Zardari and [his son] Bilawal Bhutto Zardari to come and stage protests in Islamabad," he said. "I will even provide you containers and food." He remarked that the PPP leaders will not be able to survive for more than a week.
The premier said that people like Zardari (PPP co-chairman) are claiming that they can topple the current government while Fazlur Rehman (JUI-chief) is preparing for a million march, adding that these "spineless" leaders can't harm the government.
"Zardari, this government is not going anywhere, but yes, you are going to jail soon," said Imran Khan while referring to former president.
He maintained that Zardari and his son, PPP-chairman Bilawal Bhutto, can't become leaders for they have no political struggle to their credit but a forged will.
"How can people who only have a (forged) will as their only claim to leadership become leaders? you (Bilawal and Zardari) have not done any struggle?," asked Imran Khan.
The PM maintained that the recently concluded train march by PPP chairman Bilawal was a mock exercise as "people were brought by giving them Rs200 each".
About Fazlur Rehman, he says that the JUI-F chief is saying that he will hold a million march against the government but can't even do a small rally.
"Fazlur Rehman is someone who lost his seat (during elections), his example is that of a kid who fielded all day but on his turn to bat, got bowled out on the very first ball," said Imran Khan.
He added that the JUI-F chief is what one calls a "Rondu" (a kid who refuses to accept failure) who after losing his wicket, runs away with the stumps.
Imran Khan also criticised former premier Nawaz Sharif's sons Hassan and Hussain Nawaz by saying that both are evading corruption inquiries on the pretext that they are foreign citizens despite the fact that their father ruled this country for years. The prime minister said that the PML-N was expert in money laundering and stealing money.
He repeated his resolve to "punish the corrupt politicians" and claimed that the opposition parties just want to pressurize the government to get an NRO- a euphemism for relief in accountability cases.
Imran Khan said that Rs100 billion would be spent in tribal areas in next 10 years, aiding that interest free loan will also be provided to the youth.
While announcing supply of gas, water and electricity for Jamrud, the Prime Minister said development projects will be initiated in the tribal areas. "Torkham border will be opened round the clock," Khan added.
On Thursday, addressing a public gathering in Garhi Khuda Baksh, former president Asif Ali Zardari said that time has come to send the Pakistan Tehrik-e-Insaf (PTI) government packing. He said that if Prime Minister Imran Khan stayed in power, he would push the country 100 years back, adding that his party would soon topple the government.
The PPP co-chairman said that it has become difficult for the poor masses pay their electricity bills.
Zardari asked the people to be prepared for march towards Islamabad. "Be patient, we will announce a campaign soon to bring topple the government. We will not stage sit-in like them (PTI) and will continue sleeping on the roads till they resign."
Criticizing the government's policies and inflation, the former president said the prices of vegetables have doubled during the PTI government's tenure. "I had already said the PTI government's main target is 18th government," he added.
Later, addressing the gathering, PPP chairman Bilawal Bhutto Zardari also lashed out at PM Imran Khan and his government.
Bilawal said, "the PTI government has done nothing with sincerity except lying." He said PTI government launched inquiries through National Accountability Bureau (NAB) to scare PPP leaders, adding that NAB is exacting revenge instead of carrying accountability.
The PPP chairman said, "The stories of Benami (fake accounts) are just stories and allegations." Paying rich tribute to ZAB, Bilawal said today is the 40th martyrdom anniversary of Zulfikar Ali Bhutto.
He went on to say, "They (PTI and Imran Khan) say Pakistan has become bankrupt due to the 18th amendment. The Benami Prime Minister does not know strong provinces are the sign of a strong federation." Bilawal added they (federal government) does not want Sindh but wants to grab its gas, water and other resources.