PPP to launch Karwan-e-Bhutto across Pakistan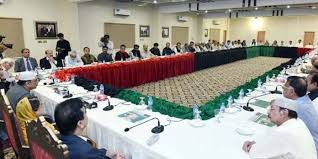 Larkana: The Pakistan People's Party (PPP) has planned to launch its march – Karwan-e-Bhutto – throughout the country.
The decision was taken at a meeting of the party's central executive committee (CEC) jointly chaired by PPP chairman Bilawal Bhutto-Zardari and co-chairman Asif Ali Zardari at Naudero House.
The party's meeting accused the incumbent PTI government of being incompetent to resolve issues of masses.
PPP's leadership also criticised price hike on petroleum products and expressed concern over weakening economy of the country.
The Pakistan Peoples Party's train march 'Karwan-e-Bhutto' under the leadership of party chairman Bilawal Bhutto-Zardari was concluded on March 28 after arriving at the Larkana railway station after a journey of more than 40 hours that kicked off from Karachi.
The PPP key leadership had reached Larkana to commemorate the birth anniversary of Zulfiqar Ali Bhutto.
Addressing at the railway station, Bilawal said former prime minister Zulfikar Ali Bhutto embraced martyrdom but never deceived the public. "Zulfikar Ali Bhutto never took U-turn on principles," he said, slamming Prime Minister Imran Khan.
"Accountability strengthens democracy. We won't accept political vendetta in the name of accountability," he said, alleging that the July 2018 elections were massively rigged by blocking the way of the Pakistan People's Party (PPP) in Punjab.