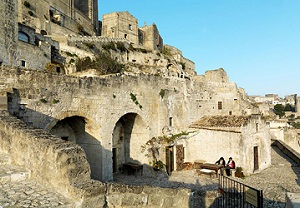 Rome: Matera is one of two European Capitals of Culture in 2019­ – Plovdiv in Bulgaria is the other. Yet, even 15 years ago, the idea that this town in Basilicata, in Italy's deep south, would merit such recognition would have seemed laughable.
Not that it lacked culture – far from it – just that for decades this was one of the most deprived places in western Europe. Some 20,000 of its inhabitants lived in the Sassi, a honeycomb of ancient and unutterably wretched cave dwellings that riddled the ravine below the medieval town.
In the Sixties the caves were cleared but, until recently, remained derelict, monuments to a time that many felt shamed the town.
But first squatters, then artists and now entrepreneurs have returned to the caves, along with cafés, galleries, restaurants and, above all, hotels, sparking a renaissance in Matera's fortunes.
Even without Matera's remarkable caves – which Unesco in its World Heritage Site designation describes as "the most outstanding example of a troglodyte settlement in the Mediterranean" ­– this would be a striking and beautiful place to visit; a glorious, honey-stoned ensemble of tiny alleys, sleepy squares, ancient chiese rupestre (cave churches), and sweeping views over a strange but enchanting landscape.