Pakistan summons Indian DHC to protest against aggression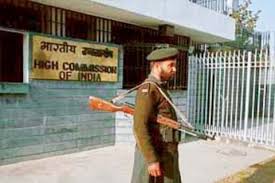 Islamabad: Pakistan on Sunday summoned Indian Deputy High commissioner to Foreign Office to lodge a protest against Indian aggression.
According to details, the Foreign Office has warned the rival India against any misadventure.
The warning came after the statement of Foreign Minister Shah Mahmood Qureshi who said Pakistan has "reliable intelligence" that India is preparing for another act of aggression against the country.
Pakistan in its protest stated that it would retaliate against any aggression by Indian forces.
The Director General South has summoned Indian Deputy High Commissioner to lodge protest.
Earlier in the day, addressing a news conference in Multan, Foreign Minister Shah Mehmood Qureshi has said there is "reliable intelligence that India is readying for another act of aggression" against Pakistan.
"A [fresh] act of aggression by India against Pakistan is likely between April 16 and 20. According to the reliable intelligence we have right now, a new Pulwama-like incident can be [planned] by India to increase diplomatic pressure on Pakistan and to justify military action against Pakistan," he said.
"After consultation with Prime Minister Imran Khan, we have decided to share this information with the people of Pakistan as well as the international community immediately. It is our policy to keep the nation informed," the minister added.
The Foreign Minister added Pakistan always wished for peace and it would continue the same spirit in future. Talks were only way forward to settle issues including Kashmir, water, Sir Creek, corridors, economic cooperation and some others, between the two nuclear states.
Responding to a query, the foreign minister categorically stated that Pakistan reserved the right to safeguard its frontiers.
The morale of Pakistan armed forces and masses were very high and they were united against any sort of aggression. He said the government and opposition were on the same page on national security.
The Foreign Minister, however, added that opposition had right for political protests. The government had never denied for talks with opposition parties, he added.