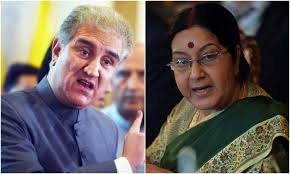 Islamabad: Foreign Minister Shah Mahmood Qureshi says the BJP-led Indian government is playing a dangerous game and destroying peace of the whole region, just to win the upcoming general elections.
Talking to a private news channel, he said Pakistan is not in favour of war or damaging peace of the region but in case of any Indian aggression, we reserve the right to defend our motherland.
Shah Mahmood Qureshi said the Foreign Office has briefed ambassadors of twenty to twenty two countries on an Indian plan to launch an aggression against Pakistan.
He said the diplomats have been requested to play their role in de-escalating current tense situation between the two nuclear states.
Responding to a question, he said the Islamic world would stand with Pakistan in case of any misadventure by India.
The Foreign Minister said Bharatiya Janata Party has committed to revoke Article 370 of the Indian Constitution after coming to power again. He said if this happens it will spark fire in the Indian occupied Kashmir.
He said after the Pulwama incident, violations of human rights in Indian occupied Kashmir have increased.