Bilawal announces free electricity in Islamkot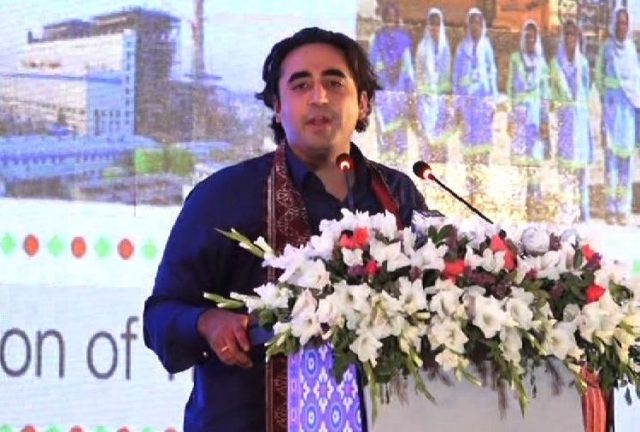 Tharparkar: Pakistan People's Party (PPP) Chairman Bilawal Bhutto Zardari on Wednesday announced to provide free-of-cost electricity to the residents of Islamkot – a town in the Tharparkar District in Sindh – after inaugurating Thar Coal Power Project in Thar.
He addressed an inauguration ceremony of Thar Coal Power Project and stated that the power generated by the project would benefit entire country.
"Local people deserved to get electricity from the coal power project at the highest priority," he said, while calling it unjust to the people of Thar that they were being deprived of electricity.
Furthermore, he urged for public-private partnership in every project under the China-Pakistan Economic Corridor (CPEC).
Importantly, he announced to establish a campus of the NED University of Engineering and Technology in Thar. "There should have been two universities here (Thar)," he said.
Later, he vowed to improve the condition of schools and hospitals in the region.
The PPP chairman also disclosed that a 250-bed hospital was being constructed and would be inaugurated soon. "The region of Thar is producing black gold. This is called good governance. This is called mega project. This is naya Thar and naya Pakistan," he went on to say.
He recalled what he termed as a vision of former premier and his mother Benazir Bhutto to transform the state of Pakistan towards development and prosperity using coal production in Thar region. "What the PPP has done in Thar is called good governance," he added. "Today is one of the historic days in Pakistan," he said.
Earlier, after inauguration Bilawal took to Twitter to share his views on the matter.
Meanwhile, Sindh Chief Minister Murad Ali Shah and other PPP leaders, including Sindh cabinet members also attended the inauguration ceremony.
The Thar coal power project has a capacity to generate 660 megawatts and consists of two power generation units of 330MW each.
The power plant is part of the China-Pakistan Economic Corridor (CPEC) as China actively extended financial, technical, and manpower support to complete the project. The Sindh government has given the sovereign guarantee of $700 million for this project.
For the succession of project, Mai Bakhtawer Airport, roads and bridges were also established besides provision of water for power generation.
Later, Pakistan Muslim League-Nawaz (PML-N) leader Ahsan Iqbal applauded Bilawal over the project and said, "Thar Coal project demonstrates the power of collaboration. PML-N federal government, PPP Sindh government and Engro – private sector worked as a team to make this CPEC dream come true."