Time has come to send rulers home: Zardari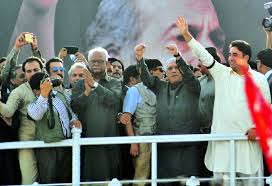 Islamabad: Pakistan People's Party (PPP) co-Chairman Asif Ali Zardari Wednesday said that the time has come to send incumbent government packing.
Talking to journalists here after a meeting with Jamuat Ulema-e-Islam (Fazal) chief Maulana Fazalur Rehman, he said they both agreed that the time has come to send to send government home.
Zardari said that if the opposition did not launch drive against present rulers the nation would never forgive them.
"Time has come for Imran to back to the pavilion," he said adding that his party's stance over the present political situation was the same.
He said that they both talked on various national and political matters and there was a complete understanding between them.
To a question over PM Imran Khan statement in which he attached resolution of Kashmir issue with Narendra Modi election victory, Maulana Fazlur Rehman said, "Modi Ka Jo Yar Hai, Wo Ghdar Hai, Ghadari Hai (Anyone who is a friend of Modi is a traitor)."