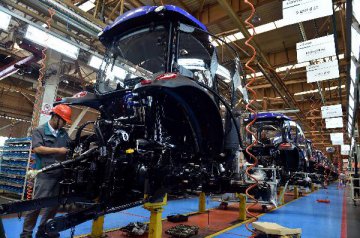 BEIJING: China's industrial output, an important economic indicator, expanded 6.5 percent year on year in the first quarter of 2019, official data showed Wednesday.
The growth rate came in 1.2 percentage points higher than that recorded in the January-February period, according to the National Bureau of Statistics (NBS).
Ownership analysis showed that in the first quarter, industrial output of state-holding enterprises and share-holding firms went up 4.5 percent and 7.8 percent, respectively. Meanwhile, industrial output of enterprises funded by overseas investors increased by 1.4 percent.
The industrial production saw faster growth in the first quarter, with more presence of high-tech industries, the NBS said in a statement.High-tech industries maintained fast expansion, with their output increasing 7.8 percent year on year, up 0.8 percentage points from a year earlier.
New products saw robust growth, as the production of mobile communication base station equipment, urban rail vehicles, new energy vehicles, and solar panels increased 153.7 percent, 54.1 percent, 48.2 percent and 18.2 percent, respectively. In March alone, industrial output increased 8.5 percent year on year, a record-high since July 2014, up 3.2 percentage points from the January-February period.
Industrial output, officially called industrial value added, is used to measure the activity of designated large enterprises with an annual turnover of at least 20 million yuan (about 2.9 million U.S. dollars).