PM assures compensation to tribal people who have suffered due to terrorism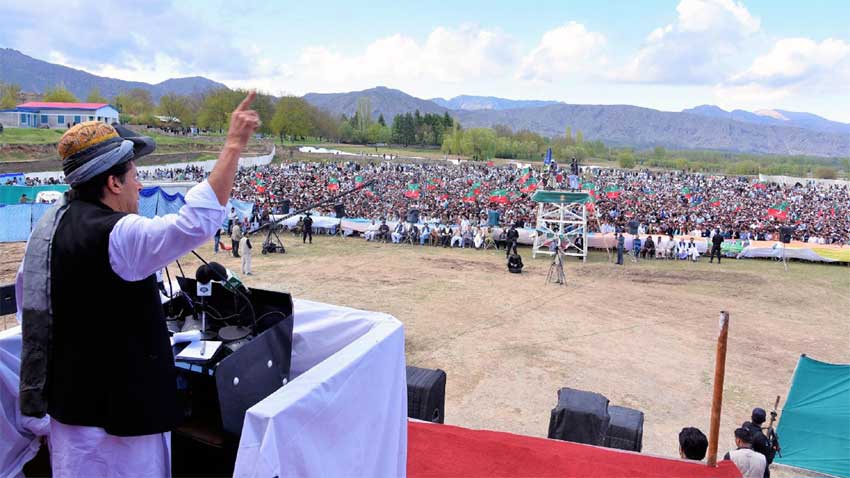 Prime Minister Imran Khan has assured that his government will work whole heartedly for the welfare of down-trodden people of society.Addressing a big public gathering at Kalaya, the headquarters of Orakzai district on Friday, he said the national economy is in crisis due to corruption by Sharif and Zardari families.
Imran Khan said the loan has gone from six thousand billion to thirty thousand billion rupees in the last ten years due to corruption and mismanagement of previous governments.He said we can generate a huge revenue and jobs by promoting tourism on the pattern of Turkey and Malaysia.
Imran Khan said all the tribal people who have suffered due to terrorism will be fully compensated.A large number of tribal people were displaced and their sacrifices for the nation will always be remembered.The Prime Minister said the tribal people will also be provided interest free loan to enable them start their own business.
Imran Khan said the tribal people will also be provided Sehat Insaf Cards whereby each family will get free medical treatment up to seven hundred and twenty thousand rupees annually.Besides formal education, technical education will be provided to tribal youth to equip them with the latest technology.
Imran Khan said two point six million students of madaris will also be provided modern scientific education side by side with the religious education in the country.The Prime Minister stressed the need for restoration of peace in Afghanistan as it is necessary for trade and business activities in the regions.
He asked the administration of Shaukat Khanum Memorial Trust to construct a cancer hospital in Afghanistan.
Speaking on the occasion, Chief Minister Khyber Pakhtunkhwa Mahmood Khan said all the problems faced by the tribal people will be solved on priority basis.
He said mosques and tablighi centers will be provided solar energy besides construction of playgrounds in the area.